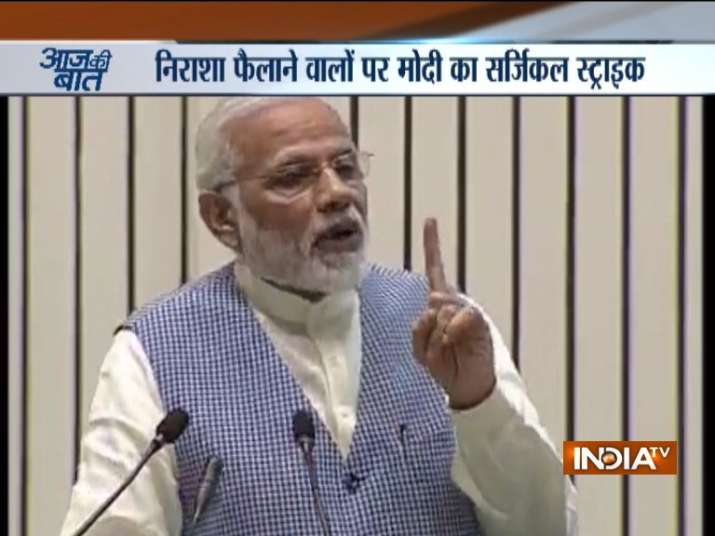 When senior BJP leader and former Finance Minister Yashwant Sinha wrote a column to mount a frontal attack on Modi government's management of economy, it created political ripples. He was promptly supported by Congress stalwarts like P. Chidambaram, Kapil Sibal and Dr. Manmohan Singh.
Several experts wrote articles in newspapers on the current state of our economy. Allegations were levelled to say that Prime Minister Modi and his Finance Minister Arun Jaitley are unable to manage the economy.
The articles mentioned about falling GDP rates, small and medium businessmen facing crisis, workers losing their jobs, GST regulations making life hell for traders and businessmen, no tangible benefit accruing from demonetization, and the like.
On Wednesday, Prime Minister Modi, while addressing company secretaries, clearly addressed these critical issues. He had come fully prepared for his speech. He had facts and figures ready with him, to buttress his arguments and reasons.
The Prime Minister made it clear that he was in full control of the economy, and was keeping a watchful eye on shortcomings. It is in the fittest of things that he admitted to some shortcomings. He also said, some criticisms were justified, and the government was ready for another set of reforms.
I personally feel that we should trust our Prime Minister's words and wait for another four to six months to see in which direction our economy is heading, and how much improvement has taken place.
Watch the full episode here:
Aaj Ki Baat: Monday to Friday, 9 PM
India's Number One and the most followed Super Prime Time News Show 'Aaj Ki Baat – Rajat Sharma Ke Saath' was launched just before the 2014 General Elections. Since its inception the show is redefining India's super prime time and is numerically far ahead of its contemporaries.