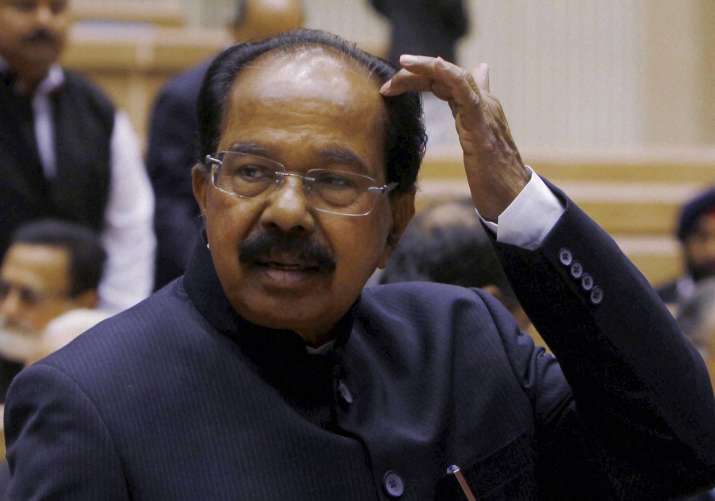 Coming out in support of the Electronic Voting Machines (EVMs), senior Congress leader and former Union Law Minister Veerappa Moily on Tuesday said that only those who have been defeated in elections are blaming EVMs.
Moily's reaction came a day after the Congress joined the bloc of 16 opposition parties to petition the Election Commission(EC) against the EVMs. 
Disagreeing with his party for joining hands with other opposition parties on this issue, Moily said that the chorus against the EVMs represented a "defeated mindset".
He also added that the credibility of EVMs are beyond doubt.
"I am a former law minister. During my period, EVMs were introduced. And complaints also came. We got them verified. Then you know, you should not forget the history. Just because you think there is a popular wave against EVMs, we will also catch up with that," Veerappa Moily told Times of India. 
"EVMs, we know very well. Even during our period (UPA), we got them tested. EVM is not the reason. Just because you are defeated? Only the defeatist people will blame EVMs, otherwise there is no point," he added.
Moily categorically said that the Congress should not have joined the opposition on this issue and that enough consultations were not made within the party on this topic.
"We shouldn't have. None of us have been consulted... many of us were not consulted," he said.
Moily further said that "local mistakes" in voting machines can't be ruled out but he added that there is a system in place to address such mistakes .
He asserted that such mistakes are  entirely different from abusing the EVM technology. 
"Talk about Abusing the technology itself isn't right. It is something I don't subscribe to," Moily told TOI. 
Terming the opposition to EVMs as "populism", Moily advised the Congress not to play second fiddle to other parties on this issue.
"This populism will destroy your base. Congress should not go for populism. Just because somebody in some region took up the issue, I don't think you (Congress) should play second fiddle to them," he added.