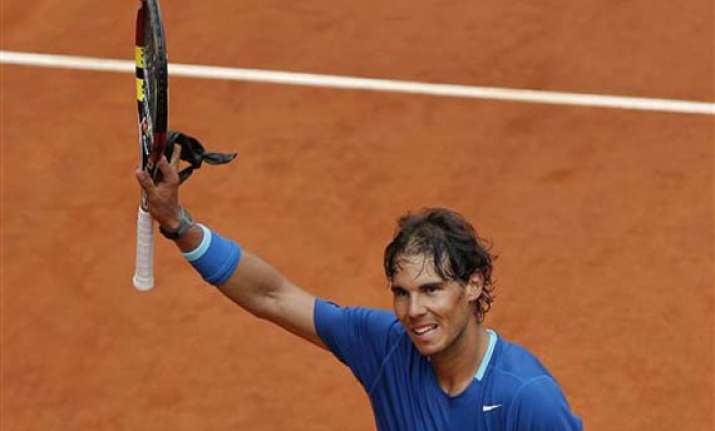 MADRID: Defending champion Rafael Nadal gave his clay-court doldrums a boost by reaching the Madrid Open semifinals on Friday, while two-time defending women's champion Serena Williams withdrew with a leg injury.
The top-ranked Nadal had lost his previous two quarterfinal matches on clay for his worst run on the surface in a decade. But buoyed on by a partisan crowd, Nadal overpowered Thomas Berdych 6-4, 6-2 to advance at the Magic Box.  
"It was my most complete game," said Nadal, who made no attempt to contain his emotions against Berdych.  
Nadal has been improving with every match in Madrid after losing at the quarterfinals stage in preceding tournaments in Monte Carlo and Barcelona.  
But he showed no sign of the nerves that had uncharacteristically crept into the game of the most successful clay-court player ever as he pushed Berdych to the corners and punished him with a powerful forehand that accounted for 16 of his winners.  
Berdych, who dropped to 3-18 against Nadal, couldn't keep up in the hot sun beating down on Manolo Santana center court. 
The top-ranked Williams has had her left thigh heavily bandaged this week and said she injured it during a first-round victory over Belinda Bencic on Sunday.  
"It started to get better but, most importantly right now, I just need some time to rest and recover. It's beyond words. It's so frustrating," Williams said in a statement. "This is not the way I wanted this week to end."  
The withdrawal gave 2011 champion Petra Kvitova a walkover and a spot in the semifinals.  
The 32-year-old Williams said the injury would not keep her out of the French Open, with the defending champion tweeting she would play in Rome next week before the second Grand Slam of the season starts on May 25.  
Maria Sharapova also reached the semis after she rallied to beat Li Na 2-6, 7-6 (5), 6-3.  
Li was in control until she failed to convert two break points in the 11th game of the second set. Errors then began creeping into the Australian Open champion's game as Sharapova evened the match.  
After an exchange of breaks in the third set, Sharapova broke again and then held serve to win on Li's 43rd unforced error.  
"It really could have gone her way today. You know, it was just a matter of a few points in the second set," said Sharapova, who came through despite seven doublefaults. "I was down, I didn't play a great first set, and I found a way to get myself in a position to be in the third."  
Kvitova will face fourth-seeded Simona Halep after the Romanian ousted Ana Ivanovic of Serbia 6-2, 6-2.