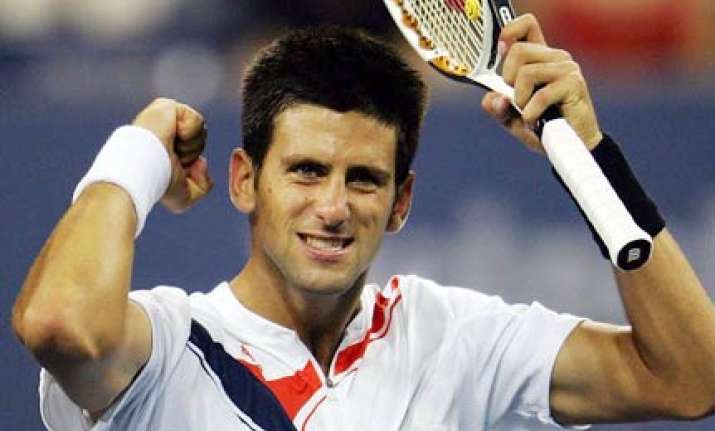 WIMBLEDON: Novak Djokovic was pretty pleased that the All England Club closed the Centre Court roof because of fading sunlight during his first-round match.
First of all, Wimbledon only installed the retractable roof last year, so there haven't been many matches played under it.
"You don't get to see a lot of late-night matches in Wimbledon history," Djokovic said. "So I'm happy that in a way my name is in the history books."
Most of all, though, the No. 3-seeded Djokovic was excited because he was losing to 68th-ranked Olivier Rochus of Belgium before the court was covered Monday evening, then came back to win 4-6, 6-2, 3-6, 6-4, 6-2 with the roof shut and the lights turned on.
Play was interrupted for about 35 minutes after the third set, as darkness began to descend, while the stadium was set up for indoor play.
"The break kind of helped me a little bit, because I didn't feel great at that moment on the court," Djokovic said. "So to have a little ... break and just relax and focus, and reset my game and my mind, was helpful."
The match finished just before 11 p.m., as Djokovic reeled off the last six games after being down a break and trailing 2-0 in the final set.
The 2008 Australian Open champion said it felt more humid on court with the roof closed.
"It's different conditions, definitely different conditions," Djokovic said. "Kind of suited my game at that moment, and I managed to go through."
Unlike Roger Federer, who acknowledged he felt lucky to have scraped through his first-round match after losing the first two sets, Djokovic gave himself credit for playing well down the stretch.
"Especially in the fifth set, I showed the real game, the game that I should play," he said. "Rochus is a very tricky player, especially on grass. He has a very low balance and he rarely gives you free points. You have to work for all the points."
Rochus had won three of their previous four matches against each other and thought he could have done it again Monday if he'd managed to convert one of the five break points he wasted across the eighth and 10th games of the fourth set.
"I was feeling really good, I was playing great," Rochus said. "If I break him back, get to a tiebreak, anything can happen. The match was so close."
He began to tire after leading 2-0 in the fifth.
"I think I started to feel a little pain everywhere," Rochus said. "Novak was playing really good. He was returning great, especially on my second serve."
Next up for Djokovic: a second-round match against American Taylor Dent. Djokovic was a Wimbledon semifinalist in 2007, and a quarterfinalist last year, and he has his eyes set on more success at the grass-court Grand Slam tournament.
"I really have a big desire to go far," Djokovic said, "but I'll take one match at a time. You cannot underestimate any opponents, even in the opening rounds." AP