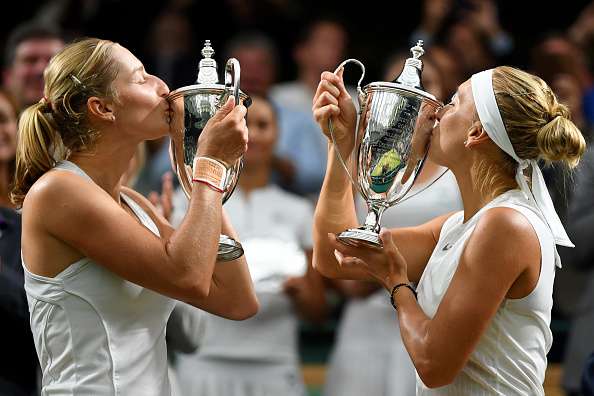 Olympic champions Ekaterina Markova and Elena Vesnina won the Wimbledon Women's Doubles Final to take home their third grand slam and their first at the All England Club.  Russian duo Makarova and Vesnina beat Chinese Taipei's Chan Hao-ching and Romania's Monica Niculescu 6-0 6-0 in a match that lasted only half an hour.
"We were sitting and waiting. We knew that it's going to be five sets. We knew it was going to be a drama at the end. We knew it was going to be something," Vesnina said. "Martina Navratilova told us, 'Do you know you girls have to finish till 11?'
"After the first set, I looked at the clock. OK, we're still fine."
It was Makarova and Vesnina's third Grand Slam title together. The 2016 Olympic doubles champions won the French Open in 2013 and the U.S. Open in 2014.
The result was the first "double bagel" in the women's doubles final since 1953, when Shirley Fry and Doris Hart beat Maureen Connolly and Julia Sampson 6-0, 6-0.
(With AP Inputs).