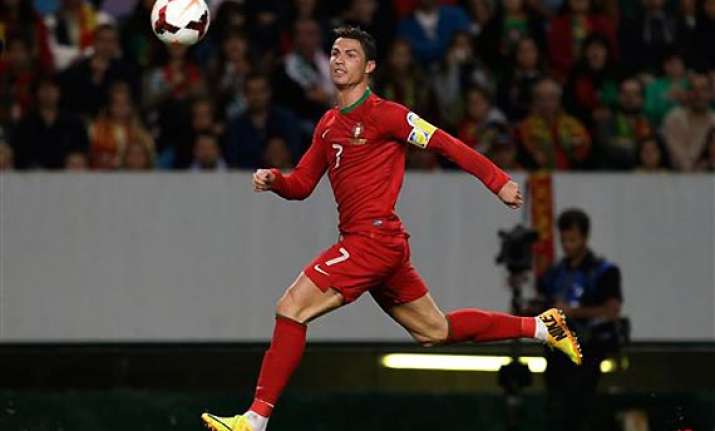 Zurich: Cristiano Ronaldo and Portugal will find out on Monday who they must beat in a playoff to reach the World Cup in Brazil.
France and Franck Ribery would be the toughest possible test for the Portuguese as the in-form and highest-ranked of four unseeded nations in the draw at FIFA.
Portugal, No. 14 in FIFA's monthly world standings, is seeded with Greece (No. 15), Croatia (No. 18) and Ukraine (No. 20), which barely edged ahead of the French after the qualifying groups finished last week.
France (No. 21) is unseeded with Sweden (No. 25), Romania (No. 29) and Iceland (No. 46).
Iceland, which has a population of around 315,000, aims to become the smallest country ever to play at the World Cup. That record is held by 2006 qualifier Trinidad and Tobago.
Two-legged playoffs are scheduled for Nov. 15 and 19.
The four winners will complete Europe's 13-strong entry in the 32-team World Cup draw on Dec. 6 in Salvador, Brazil.
Portugal is in the playoffs for the second straight time after Russia won its qualifying group.
France, which was runner-up at the 2006 World Cup after beating Portugal in the semifinals, also has a repeat playoffs date after being drawn in a qualifying group with Spain.
Four years ago, France profited from a notorious handled assist by Thierry Henry to beat Ireland in extra time, and Portugal beat Bosnia-Herzegovina home and away.
Greece also won its playoff to advance to the 2010 tournament in South Africa, beating Ukraine.
FIFA said it has reprieved Ukraine to play its home leg with fans in the stadium, likely in Kiev, while its appeal committee considers a racist abuse case.
Ukraine has challenged a one-match stadium closure order imposed by FIFA over fans "displaying neo-Nazi banners and by making 'monkey noises and gestures' as well as Nazi salutes" during a victory against San Marino in Lviv last month.
Croatia's playoff matches will mark the coaching debut of Niko Kovac. He replaced Igor Stimac who was fired last week after a series of poor results this season.