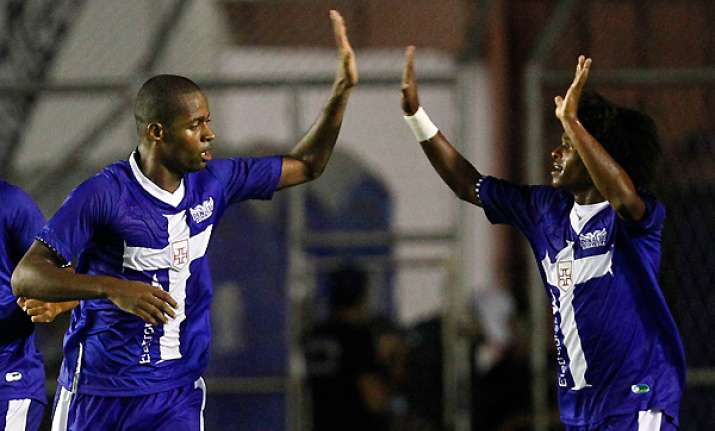 Rio De Janeiro, Mar 7: Brazil club Vasco da Gama picked up its first points in the Copa Libertadores with a 3-2 victory Tuesday over Peru's Alianza Lima.

The Group 5 match was level at 1-1 until Alianza's defender Giancarlo Carmona was sent off in the 48th after his second yellow card.

In two other group matches, last season's runner-up Penarol of Uruguay drew 1-1 with Universidad de Chile in Group 8, and Chilean clubs Universidad Catolica and Universidad Espanola also drew 1-1 in Group 3.

In Group 5, Sebastian Charquero gave Alianza a 1-0 lead in the 17th but an own-goal three minutes later by Christian Ramos allowed Vasco da Gama to equalize.

Alianza went down to 10 men in the 48th when Carmona was sent off and Vasco took advantage, with Dede scoring in the 59th for a 2-1 lead. Alecsandro hit the post with a penalty in the 69th, but Juninho Pernambucano clinched the victory with a goal in the 80th.

Walter Fernando Ibanez scored in the 85th to cut the margin for the Peruvians.

Vasco da Gama has three points from two games, while Alianza is yet to earn a point. Libertad of Paraguay leads the group with six points from two matches.

At Montevideo, Uruguay, Penarol had to settle for a draw despite outplaying Universidad de Chile. Penarol was the losing finalist a year ago, but this time has only one point from three matches. Atletico Nacional of Colombia leads Group 8 with six points from two matches, two points clear of Universidad de Chile.

Andres Nicolas Freitas gave Penarol the lead in the 21st minute, but Junior Fernandes leveled it in the 35th with a 15-meter (yard) volley. Penarol had two clear chances to score 10 minutes into the second half but failed to convert either.

At Santiago, Chile, Enzo Andia gave Universidad Catolica a 1-0 lead with a 38th-minute header but Emanuel Herrera equalized in the final seconds of the first half. Universidad Espanola leads the group with seven points from three matches, four points clear of Universidad Catolica.