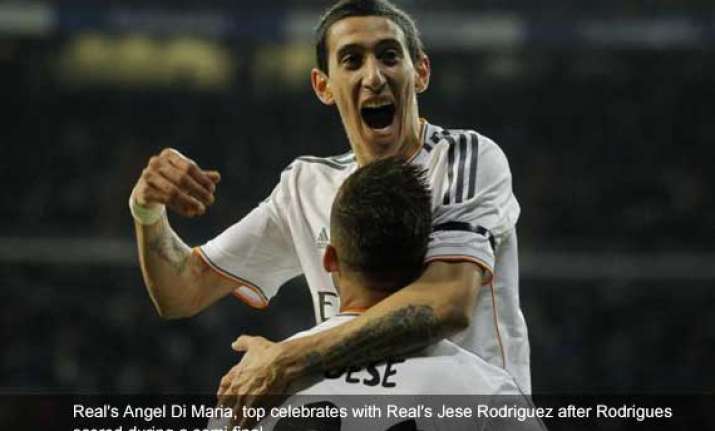 Madrid: Real Madrid spoiled crosstown rival Atletico Madrid's short honeymoon as Spanish leader by winning its Copa del Rey semifinal first leg, while Barcelona also took control of its series with a victory over Real Sociedad.
Pepe, Jese Rodriguez, and Angel Di Maria all scored as Madrid won a bad-tempered crosstown derby 3-0 to humble Atletico on Wednesday, three days after it took the outright league lead with only its second loss of the season.   
Barcelona did its part to increase the chances of a clasico in the April 19 final by beating 10-man Sociedad 2-0 at the Camp Nou.   
Pepe spent much of the game riling up Atletico striker Diego Costa after putting Madrid ahead in the 17th minute at Santiago Bernabeu Stadium where his shot deflected off defender Emiliano Insua past goalkeeper Thibaut Courtois.   
The hosts dominated the tetchy derby as Courtois made a string of first-half saves before Jese Rodriguez broke through in the 57th as the young striker continued his impressive season by using a quick touch to guide Angel Di Maria's pass under the Belgium `keeper.   
Diego Costa's frustrations got the better of him as a yellow card in the 61st means Atletico's leading scorer will miss the return leg next week, which leaves the attack depleted with David Villa also expected to be sidelined by injury.