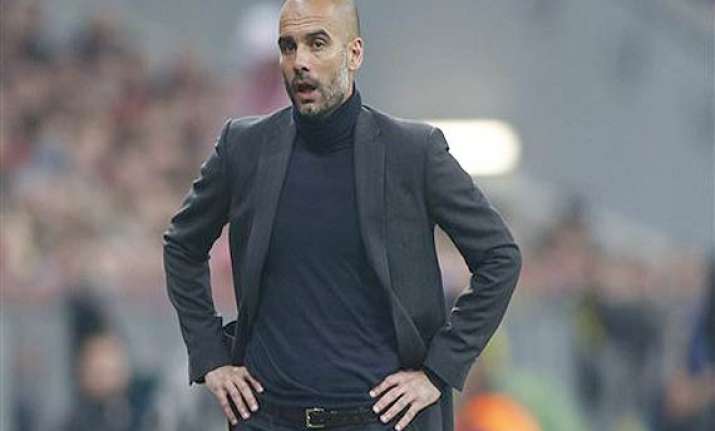 MUNICH : Pep Guardiola's obsession with possession is under scrutiny after Bayern Munich's title hopes in the Champions League were shredded by Real Madrid.
Madrid coach Carlo Ancelotti outfoxed Guardiola over both semifinal legs and his team crushed Bayern 4-0 in Munich on Tuesday to complete a 5-0 aggregate win.   
One year ago, Bayern crushed another Spanish giant, Barcelona, 7-0 over two legs en route to an unprecedented club treble -- the Champions League, the Bundesliga, and the German Cup.   
In Guardiola's first season in charge, Bayern became the earliest Bundesliga champion but the Champions League title is gone. The German Cup is still within reach, but Bayern looks a lot less dominant than it did until four weeks ago.   
Feted until recently as a godsend, Guardiola is under fire.   
"Pep Guardiola had to recognize that he perhaps picked a clever, courageous tactic for the two games. But that someone read through it," wrote Munich's leading newspaper, Sueddeutsche Zeitung.   
The Frankfurter Allgemeine wrote that Guardiola's reputation as "the Messiah of the profession has been dented."   
"In both games against Real, Carlo Ancelotti proved to be a better strategist. Considering both legs, it was a dismantling," the Frankfurt newspaper added.   
After Tuesday's match, Guardiola bemoaned the lack of possession in the first half -- although UEFA statistics show Bayern had two-thirds of possession for the game.   
"We didn't have ball possession and that's why we had no control," Guardiola said repeatedly.   
In Madrid, Bayern nearly monopolized possession but created few chances and conceded the only goal from a counterattack. In Munich, Real surprised Bayern by pressuring early and aggressively, and playing more attacking football, something Ancelotti hinted at beforehand when he said he would make "a few changes" to his game plan.   
Ancelotti also exploited Bayern's zone defense on set-pieces -- Sergio Ramos scored the first two goals with headers from a corner and a free kick.   
"You give up two set-piece goals and it's all over," Bayern winger Arjen Robben said.   
The slow-footed Bayern defense was exposed when Cristiano Ronaldo scored the third goal. Bayern lost the ball at the edge of Madrid's penalty area, Angel Di Mario sent a long pass to Karim Benzema, who launched Gareth Bale, and the speedy Welshman easily left behind Jerome Boateng and Dante to feed the unchallenged Ronaldo. Ronaldo also fired the fourth goal from a late free kick, shooting low while the Bayern wall jumped.   
"Is plenty of ball possession the only means, although two, three speedy players are enough to bring the defense into disarray?" wrote the Frankfurt newspaper.   
It was always going to be tough for Guardiola to repeat the treble, but Bayern looked invincible as it cruised through the Bundesliga, going 53 matches undefeated to lift the title with seven games to spare.   
Then, Guardiola made his first mistake. Declaring the Bundesliga to be "over," he started playing reserves and Bayern promptly lost, robbing his players of the chance to go through the domestic league season undefeated.   
Bayern has lost four games in April, the same as in the previous two years.   
"We have to accept it, cry, go home, and then continue on," Robben said. "We have to close our ranks, we still have a final."   
In the German Cup final on May 17 in Berlin, Bayern plays Borussia Dortmund, which recently won 3-0 in Munich using very much the same game plan Madrid had on Tuesday.