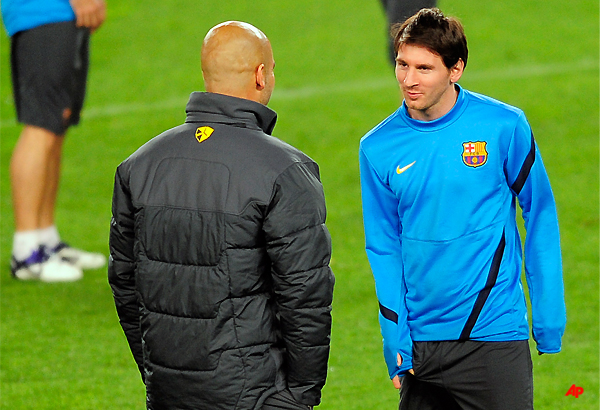 Barcelona (Spain), Mar 13: On the verge of becoming Barcelona's all-time leading goal scorer, Lionel Messi says the club's recent run of success has more to do with coach Pep Guardiola's arrival than performances like his five-goal game last week.

Messi followed his five-goal outburst in the Champions League on Wednesday with two more strikes in Sunday's 2-0 victory at Racing Santander to move within five goals of matching the all-time club scoring record held by Cesar Rodriguez.

The Argentina forward has scored seven goals in the past week but believes that none of it would be possible without Guardiola.

"Guardiola is more important to Barca," Messi said Monday when asked whether he or his coach was more important to the team. "His arrival changed everything, for (the players) and for the club. Everything that has been achieved was achieved with him. Guardiola is fundamental to Barcelona's project."

Messi has excelled under Guardiola and his latest scoring outburst took the three-time world player of the year past 50 goals for the second straight season. Since Guardiola took over at the start the 2008-09 season, Barcelona has won 13 of 16 possible trophies.

"Obviously the club and (players) will continue on but it would be very different without him," Messi said. "It would be very difficult to find another coach who can achieve everything he has and who would make this team play the way he does. This is his team."

While Guardiola has yet to announce whether he will continue with the club beyond this season, Messi's outburst in Wednesday's 7-1 win over Bayer Leverkusen was the first time anyone has scored five times in the Champions League.

Cesar set the Barcelona record of 235 goals during a 16-year career, but the 24-year-old Messi has at least 15 games to break the mark in his seventh full season.

"My goals aren't important, if they come they are welcome, but what I'm happy about is how things are turning out. We always look to the collective and without (my teammates) everything I've managed would not be possible," Messi said. "I'm happy about everything, the five goals and to being so close to matching Cesar's record. That wasn't my objective, to reach Cesar's record this season, but I'm very close and there are a lot of games remaining. But please don't ask me to set a date to do it."

The European and Spanish champion's next match is league game at Sevilla on Saturday.