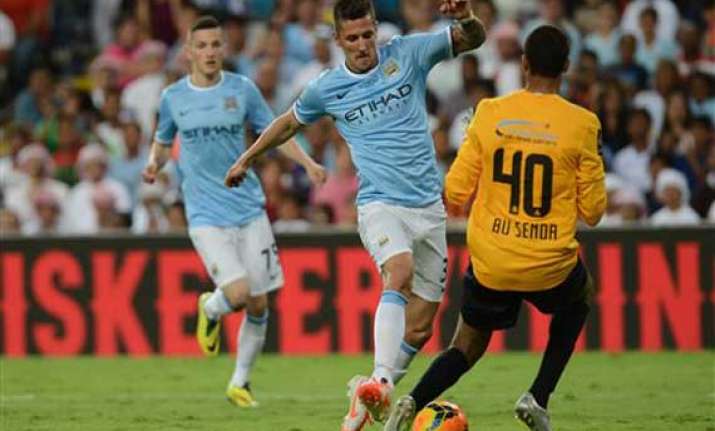 Nyon, Switzerland: Big-spending clubs Manchester City and Paris Saint-Germain were fined 60 million euros ($82 million) by UEFA on Friday and ordered to limit their Champions League squads to 21 players next season for breaching the body's financial fair play rules.
In the first series of sanctions handed down by UEFA over its new regulations meant to curb over-spending by wealthy owners, nine clubs in all were handed punishments -- but those given to the Premier League winner and the French champion were by far the heaviest.   
City said it will accept the sanctions and will not appeal, but insisted that the club has a "fundamental disagreement" with UEFA about its "interpretations of the FFP regulations on players purchased before 2010."   
PSG also accepted the punishment "in spite of the tremendous handicap they represent in terms of the club's ability to fully compete on an equal footing against Europe's biggest teams."   
PSG also said in a statement that it "deplores the fact" that UEFA hasn't recognized "the full value" of its partnership with the Qatar Tourism Authority, which the governing body said was inflated.   
The fines given to City and PSG are the heaviest ever handed by out UEFA. However, UEFA said 40 million euros will be returned to the clubs if they fulfil their financial obligations over the next two years.
Those obligations include limiting the deficits to 10 million euros in the financial year ending in 2015 for City, with PSG allowed a deficit of 30 million euros for that period before being obligated to break even by 2016.   
City said it expects to break even by the end of 2014.   
UEFA said both clubs have agreed to "significantly limit" their spending in the transfer market over the next two years. However, City said it is allowed to spend 60 million euros, plus whatever it earns for selling players, in this summer's transfer window. It said the UEFA sanction "will have no material impact on the club's planned transfer activity."