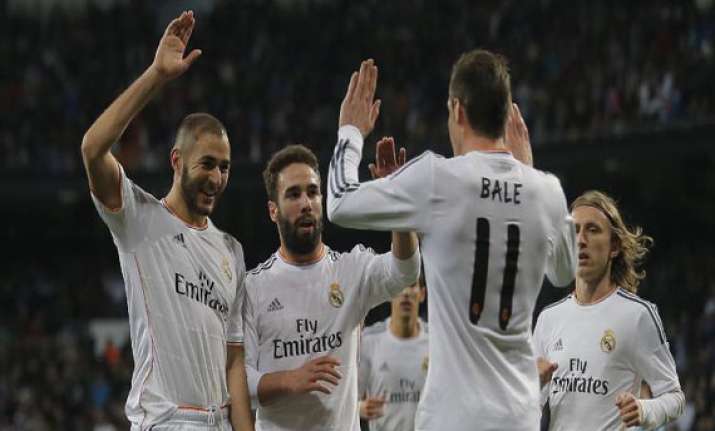 Barcelona, Spain: Real Madrid forwards Gareth Bale and Jese Rodriguez each scored and set up goals for Karim Benzema in a 4-2 win over Villarreal on Saturday, giving the powerhouse a share of the Spanish league lead after Atletico Madrid stumbled to a 1-0 loss at Almeria.
With leading scorer Cristiano Ronaldo serving the first of a three-game suspension, Bale stepped up by opening in the seventh minute at the Santiago Bernabeu before he crossed for Benzema's first goal in the 25th.   
After Villarreal's Mario Gaspar struck in the 43rd, Jese took what proved to be Madrid's winner in the 64th before Villarreal forward Giovani Dos Santos curled in a free kick in the 69th. Jese found Benzema for his double in the 76th.   
If any Madrid supporters were worried how their team would fare without Ronaldo and his league-leading 22 goals, they needn't have as Carlo Ancelotti's side extended its unbeaten streak to 23 games in all competitions.   
Instead of struggling, Benzema recorded his 12th and 13th league goals, Bale provided more arguments he was worthy of his world-record transfer, and the 20-year-old Jese gave Madrid's fans more hope they have finally found their next homegrown star.   
"It's great to be back on the pitch and get a goal and an assist as well," Bale, who had missed two games with a leg injury, said. "(Cristiano) is obviously missed. He is the world's best player. We knew we had to do the job without him."   
Also, Valencia rolled over bottom-side Real Betis 5-0 as it continued to show its turnaround under coach Juan Pizzi, while Rayo Vallecano broke a run of six home losses by humbling 10-man Malaga 4-1 to move to within two points of safety.   
Atletico failed to rebound from its 3-0 Copa del Rey defeat at Madrid on Wednesday as it lost for just the second time in 23 league matches in this campaign. It has dropped seven points in the last five rounds.   
Almeria stifled its attack and a pair of mistakes by back-up goalkeeper Daniel Aranzubia, starting for the injured Thibaut Courtois, doomed Diego Simeone's side.   
After Almeria forward Aleix Vidal's shot came off both posts, Aranzubia let Jose "Verza" Garcia's cross fall over his head in the 80th. The veteran goalie compounded that in the 86th by losing the ball to Jonathan Zongo's pressure and earning a questionable red card as he dove to recover the ball.   
Verza slotted the spot kick past midfielder Gabi Fernandez, who had to defend the net with all three changes already made.   
To make matters worse, Atletico midfielder Tiago Cardoso was carried off with a leg injury after he received a hard tackle midway through the second half.   
"We don't look for excuses," Simeone said. "The only way we know how to continue forward in the same fashion that got us here is to keep on working. What concerns me most about today is Tiago."   
Barcelona trails Atletico and Madrid by three points before it visits Sevilla on Sunday.   
Bale seemed particularly eager to take charge with Ronaldo out, and he was helped to start the scoring by defender Jose Dorado's bad decision-making and even poorer execution.   
Dorado unwisely tried to dribble around Bale instead of passing to a nearby teammate. The Wales winger pounced on his clumsy touch to steal the ball, press forward unchallenged, and coolly chip helpless goalkeeper Sergio Asenjo.   
Bale then used a burst of speed to leave behind Jaume Costa on the right flank before crossing for Benzema, whose short-range volley hit Asenjo before landing in the net.   
Villarreal, however, didn't wilt and Gaspar drilled the ball inside the far corner of the goalframe to halve the deficit before halftime.   
Madrid lost left back Marcelo to injury when he gingerly walked off the pitch in the 18th, and his replacement, Fabio Coentrao, didn't return after halftime, apparently due to injury. Alvaro Arbeloa took his place.   
Jese ran onto Angel Di Maria's incisive pass before he slipped the ball around Asenjo with a sly touch using the outside of his right boot to make it 3-1.   
Again Villarreal wasn't done, and Dos Santos bent his left-footed free kick over the barrier, but Jese steered a Madrid counterattack before squaring for Benzema to fire home and secure the three points.