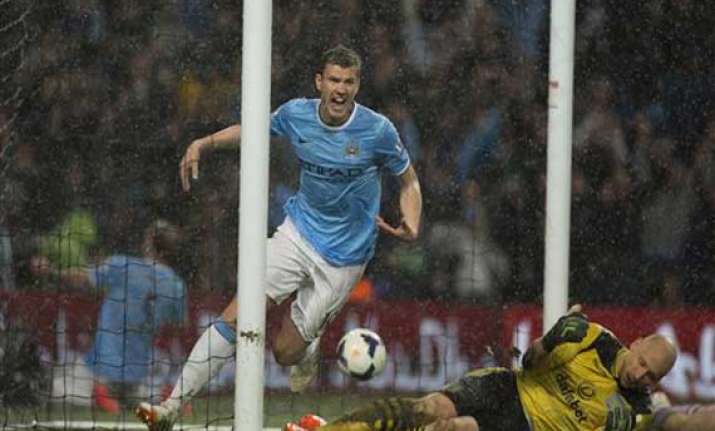 Manchester, England: Manchester City smashed through the 100-goal barrier in the Premier League with a 4-0 win over Aston Villa on Wednesday that moved the team two points clear with a game left and within touching distance of a second title in three years.
City turned a match gripped with tension into a procession with four goals in the final 26 minutes, with Edin Dzeko's double ending Villa's stubborn resistance and Yaya Toure's spectacular solo goal completing the scoring in injury time.   
A draw at home to West Ham on Sunday will be enough for City to settle a thrilling title race, with only Liverpool capable of stopping them. Chelsea, in third place, has been knocked out of contention.   
If City does go on to capture the championship, it will have done so in style under attack-minded coach Manuel Pellegrini -- just as was desired by the club's Abu Dhabi owners.   
"In the way we play, I am very happy to win the title this way," said Pellegrini, speaking as if the Premier League trophy was already in City's hands.   
"There are different ways to win titles -- I choose this one with attractive football ... Maybe you can win titles other ways. For me, the aesthetic part is very important."   
City has been most pundits' favorite the whole season but the team is doing it the hard way -- just like in 2012 when it won the title with two injury-time goals in its final match.   
Pellegrini's side has been top for just 11 days this season - compared to 59 for Liverpool, 64 for third-place Chelsea and 128 for fourth-place Arsenal.   
But City has hit form just as Liverpool has started to blunder, dropping five points in its last two games. City, by contrast, has won its last four matches and has a superior goal difference of 13 to Liverpool.   
Also Wednesday, Sunderland beat West Bromwich Albion 2-0 to guarantee another season in the Premier League and virtually relegate Norwich, which is three points behind West Brom but with a much inferior goal difference.   
There was a party atmosphere inside Etihad Stadium as City fans celebrated Toure's brilliant goal, a powerful run through Villa's defense from inside his own half.   
For the first 63 minutes, however, it had been very different.   
Villa's packed defense had held firm under constant pressure and it was looking like one of those nights for City.   
Pellegrini remained calm on the touchline, though, and the hosts didn't abandon their passing philosophy, eventually making the breakthrough in the 64th when full back Pablo Zabaleta -- on yet another raid down the right -- crossed for Dzeko to steer home from close range.   
The goal was greeted by an outpouring of relief by the home fans but Dzeko -- and Zabaleta for that matter -- weren't finished. From another teasing center by Zabaleta, Samir Nasri's effort was saved by goalkeeper Brad Guzan but the ball landed at the feet of Dzeko, who dribbled the ball into the corner in the 72nd for his fifth goal in three games.   
Villa started to push forward and that played into City's hands.   
Toure cut the ball back for substitute Stevan Jovetic to curl a low shot into the corner from the edge of the area in the 89th, before the Ivory Coast midfielder capped the win with an emphatic fourth, his 20th of the campaign.   
"An amazing amount of goals," Pellegrini said, who hailed Toure as "the absolute complete midfielder."   
Chelsea's Frank Lampard is the only other central midfielder to score 20 or more goals in the Premier League era, in the 2009-10 season.   
A month ago, Sunderland manager Gus Poyet said it would be a "miracle" if his team stayed up but that's exactly what it has done after first-half goals by Jack Colback and Fabio Borini against West Brom.   
Sunderland has picked up 13 points from its last five matches -- including wins over Chelsea and Manchester United and a draw at City.   
"I don't know if you will see something similar ever again," said Poyet, whose team is only the second since the Premier League started in 1992 to be last at Christmas and stay up.   
Despite the loss, West Brom is effectively safe as it is three points clear of Norwich but with a goal difference 17 better ahead of Sunday's final round of the season.