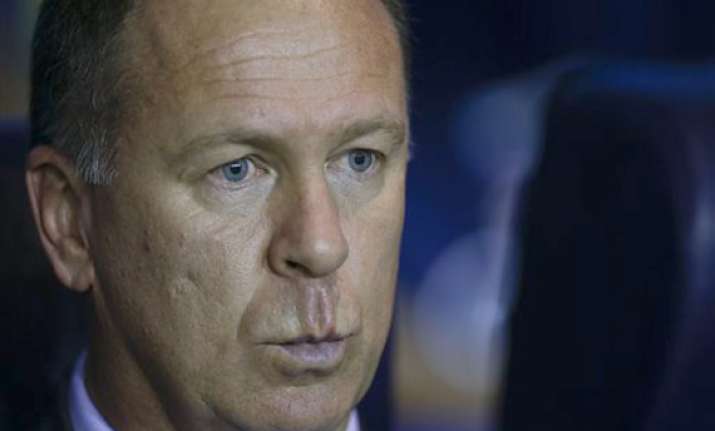 Sao Paulo, Brazil, Nov 24 : The Brazil football federation fired coach Mano Menezes on Friday, a controversial move that pleased many Brazilians who had been calling for his dismissal but worried others who believe the change comes too close to the 2014 World Cup.
Federation director Andres Sanchez, who made it clear that he didn't agree with the decision to fire Menezes, said the decision was made by president Jose Maria Marin after a meeting in Sao Paulo on Friday.
"The president believes that the national team needs to go in a different direction and for that he needs a new coach," Sanchez said.
"The president wants new methods and new planning for the national team next year."
World Cup-winning coach Luiz Felipe Scolari, who is without a job, is one of the names touted to replace Menezes, but Sanchez said he doesn't think negotiations for a new coach are under way just yet.
Sanchez, as the federation director, is in charge of the national team. Though he disagreed with the firing, Sanchez said the president was being "brave" and called it a "bold" move to make the change.
"He is looking forward and we have to respect it," Sanchez said. "The president feels that this is not the national team that he wants."
The 80-year-old Marin took over the football federation earlier this year after former president Ricardo Teixeira left his post amid widespread allegations of wrongdoing.  
Marin had not publicly criticized Menezes' methods, but he always stopped short of guaranteeing the coach would be in charge for next year's Confederations Cup and the World Cup that Brazil will host.
Sanchez said he personally talked to Menezes and the coach "obviously didn't like to hear" that he was being fired.
"Nobody wants to hear that, but he will move on and is ready to coach another club or a national team," Sanchez said.
The director said Menezes wasn't dismissed because of poor results.
"Mano did a good job," Sanchez said. "He faced difficulties but the work being done was improving. If the problem was the lack of good results he would have been fired earlier. He was winning recently."
The news came two days after Brazil beat Argentina on penalties to win the Superclassic of the Americas, a two-leg series in which the South American rivals use players from local clubs. It was Brazil's final match of the year.
Menezes was heavily criticized earlier this year because of the team's lackluster play, but good results recently had helped ease the complaints from fans and local media.
He coached Brazil for 33 matches, leading it to 21 victories, six losses and six draws. The main complaint against Menezes was that his team struggled in games against top teams and only beat the weaker sides.
He revamped the national team, replacing former stars such as Ronaldinho and Robinho by young promising players such as Neymar, Oscar and Lucas.
"The team was about 85 percent set, but what happens now will depend on the new coach," Sanchez said. "I respect the president's decision, but it interrupts the work that was under way and I don't think it came at a right moment."
The calls for Menezes' firing increased significantly after he failed to lead Brazil to the 2012 Olympic gold medal despite having most of his top players available at the under-23 tournament in London. Brazil lost the final to Mexico at Wembley.
Menezes was jeered by fans in Sao Paulo when Brazil struggled in a 1-0 win over South Africa in a friendly in September.
Pele and Romario have been among Menezes' critics.
"Today is a historic day, Brazil needs to celebrate," Romario said on his Facebook page. "Finally the federation did something good for Brazilian football. It took a while to happen, but it did."
Romario called for Scolari's return to the national team.
Scolari, who led Brazil to the 2002 World Cup title in South Korea and Japan, never ruled out coaching Brazil again, but he was tied with Brazilian club Palmeiras until earlier this year.
His contract with Palmeiras ended after he failed to improve the team's situation in the Brazilian league, and fans immediately called for his return to the national squad even though he accepted some of the responsibility for Palmeiras' recent relegation.  
The team had won the Brazilian Cup under Scolari this year.
When Brazil struggled in a recent match against Argentina, fans chanted "Goodbye, Mano," and "Come back Scolari."
Menezes took over after Brazil's elimination at the 2010 World Cup, when Dunga's team fell to the Netherlands in the quarterfinals.
Muricy Ramalho was the first choice at the time, but the four-time Brazilian league champion turned down the job because of his contract with Fluminense.
Menezes had coached Gremio and Corinthians in Brazil but had no previous international experience.
Ramalho, now with Santos, is also touted to replace Menezes, as is current Corinthians coach Tite and Gremio manager Vanderlei Luxemburgo, who previously had a brief spell as Brazil coach.