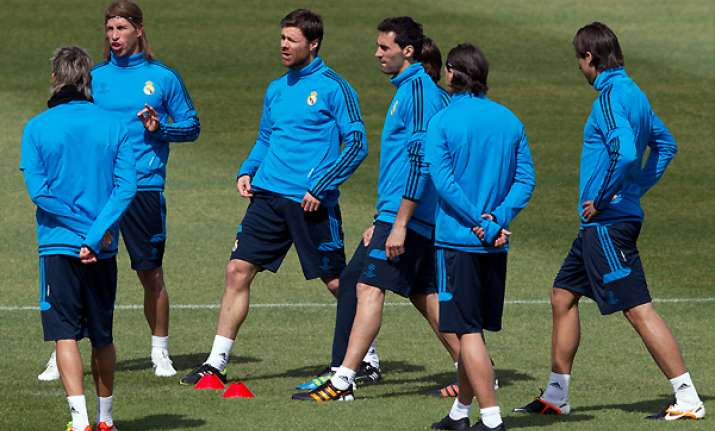 Madrid, Apr 25: With the Spanish title nearly secured, Real Madrid now needs to turn its attention to beating Bayern Munich on Wednesday in the second leg of the Champions League semifinals.
Madrid lost to Bayern 2-1 in the first leg last week, but followed that with a 2-1 victory at Barcelona in the Spanish league, increasing its lead over the defending champions to seven points with four matches to go.
And to reach the Champions League final, only a win at the Santiago Bernabeu Stadium will do.
"The team's moment has arrived," said Cristiano Ronaldo, who scored his record 42nd league goal on Saturday against Barcelona. "It's a big game and we're going to win it because we're playing in front of our fans."
Madrid has rallied to win five of seven times when it trailed 2-1 after the first leg, and has won all five of its European home games this season. Only Ajax in 1972-73 and AS Roma in 2007-08 have managed to advance against Madrid after winning 2-1 at home in the first leg.
But Bayern has beaten the Spanish team in three of four semifinals.
"We know that after the first leg result that Bayern will look to the counterattack, but we also expect them to show a lot of respect toward us since we're playing at home," Ronaldo said.
Jose Mourinho, who guided Inter Milan past Bayern in the 2010 final at the Bernabeu, has led Madrid into back-to-back semifinals since his arrival as coach.
Knowing his team must score, Mourinho will likely change from the defensive tactics he used last week against Bayern when Madrid looked content to protect a 1-1 draw before Mario Gomez scored the winner in the 90th. Brazil defender Marcelo may start at fullback in place of Fabio Coentrao with at least a goal necessary, while Brazil playmaker Kaka could also start the must-win match.
"Bayern knows if it doesn't score goals, it's out," Mourinho said Tuesday. "I don't expect the Germans to play defensively."
For Bayern coach Jupp Heynckes, the return to the Bernabeu will likely feel bittersweet after guiding Madrid to the 1998 Champions League trophy to end a 32-year barren spell. But the German coach was fired at the end of the season following a fourth-place finish in the league.
Four-time champion Bayern can become the first team to play the final in its own stadium if it progresses to the May 19 final, although captain Philipp Lahm and forward Thomas Mueller are among seven players risking suspension for the final if they are booked on Wednesday. Madrid has four players under such threat, including Xabi Alonso and Sergio Ramos.
"Collecting no yellow cards but being knocked out is completely useless to us," Schweinsteiger said on Tuesday. "We'll all throw ourselves into our tackles, just how it has to be."
Heynckes rested several regulars in Saturday's Bundesliga victory over Werder Bremen with the title won by Borussia Dortmund. Midfielder Bastian Schweinsteiger is expected to start while Daniel van Buyten (foot) and Breno (knee) are out injured.
"It's a mouthwatering and top class game of football, it'll be very emotional. Right from the start, we have to hit the gas pedal, get stuck in, and show all the virtues which Bayern Munich stand for," Schweinsteiger said. "The fans are fired up and so are our opponents. That's all the motivation we need."