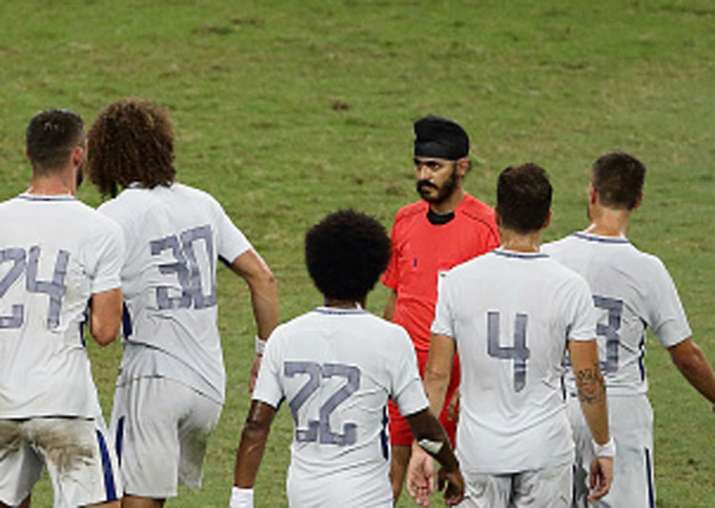 The 33-year-old Sikh referee of Indian origin - Sukhbir Singh - was scrutinized for his performance in the International Champions Cup game in Singapore, which finished in a 2-1 upset for Antonio Conte's Chelsea side. 
Singh granted a controversial penalty against Chelsea in first-half extra time following a challenge by Cesar Azpilicueta on Inter striker Stefan Jovetic. Chelsea's Michy Batshuayi later saw his equaliser 'inaccurately ruled offside'.
A number of individuals made racist and bigoted remarks about Singh on social media platforms like Twitter, while the game was in play. Since Tuesday, most comments have remained on people's respective profiles. 
Members of the public concerned by the comments directed at the match official have since contacted football's anti-discrimination campaign Kick It Out.
The campaign was set up with the brand name 'Let's Kick Racism Out of Football' in 1993 and as an association in 1997. The organization works within sectors like football, educational and community to challenge discrimination, energize inclusive practices and work for positive change.
Kick It Out provides a facility for football lovers to report incidents of abuse, both via its website, and through a mobile phone app. It also works closely with other organisations to raise awareness of the impact of social media upon football-related hate crime and positively influence users. Many of Kick It Out's campaigns focus upon actions to promote equality, diversity, understanding and tolerance through community action throughout football, from grassroots to professional level.
Kick It Out gives a service to football fans to report occurrences of abuse, both by means of its site, and through a cell phone application. It likewise works intimately with different associations to increase awareness of the impact of social media upon football-related hate crimes and positively impact users. A significant number of Kick It Out's campaigns centre around actions to support and encourage equality, diversity, understanding and tolerance throughout football.
Kick It Out told Sky Sports News the matter is being investigated by their reporting officer who is liaising with relevant authorities.