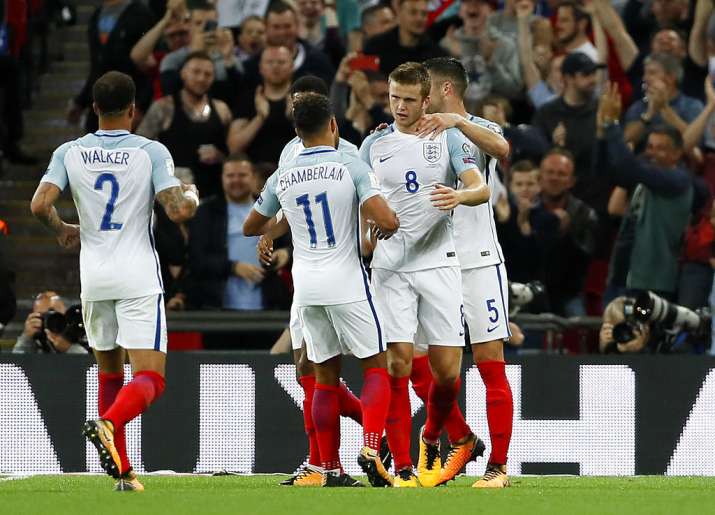 Marcus Rashford made amends after an expensive early mistake to fire England to a 2-1 win over Slovakia and within sight of next year's World Cup in Russia on Monday.
The 19-year-old striker lost possession to Stanislav Lobotka and then failed to track the midfielder, who slotted in an opening goal inside three minutes to bring the majority of Wembley Stadium to a stunned silence.
Rashford bounced back by sending in a near-post corner that Eric Dier hooked home to equalize in the 37th, before unleashing a dipping, angled finish from 20 meters in the 59th to earn England a sixth win in eight group games.
By beating its nearest challenger for the one automatic qualification spot, England moved five points clear in Group F of the European zone with two rounds remaining.
"Wasn't so good to begin with," a smiling Dier said of Rashford, "but he got better. It's a fantastic show of character."

The same could be said of England.
This was the team's most important game since its infamous and humiliating 2-1 loss to Iceland in the round of 16 at last year's European Championship.
And it took England most of the first half to recover from conceding the earliest goal it has let in in a competitive game in 24 years.

It wasn't pretty — just like the 4-0 win at Malta on Friday, which brought jeers from England's travelling fans — but England came through to stay unbeaten in qualifying. With games left against Slovenia at home and Lithuania away, one win will put Gareth Southgate's team in the World Cup.
"To come from behind is a real step forward," said Southgate, who said it was the biggest result of his year in charge.
Slovenia and Scotland both won to take full advantage of second-place Slovakia's loss to Wembley, leaving what now appears a fight for second place wide open. One point separates the three teams.