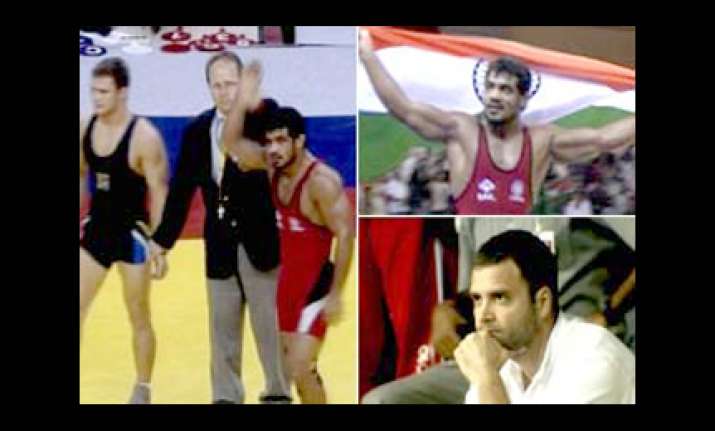 New Delhi, Oct 10: World champion Sushil Kumar won a gold in men's 66kg freestyle category, while other Indians also added to the country's medal tally in the Commonwealth Games' wrestling competition which concluded at the Indira Gandhi Stadium here today.
Sushil, who recently clinched the world crown in Moscow, overcame Heinrich Barnes 2-0 (2-0, 5-0) in the gold-medal bout, while C Prickett of Canada won the bronze in that category.
The Indian, who stepped onto the mat amid loud cheer from a packed gallery, dominated from the very beginning of the bout.
Though Sushil was warned twice by referee for dangerous gripping, it did not affect his moral as the 27-year-old grappler dominated througout the proceedings to lay hands on the yellow metal.
Sushil had beaten F Jarjou of Gambia in the semifinal.
Prickett overcame M Salman of Pakistan 2-1 for a third- place finish.
 Meanwhile, India's Anuj Kumar had to content with a silver after going down to Pakistan's Muhammad Inam 1-2 (3-2, 0-1, 0-1) in the final of 84 kg freestyle, before Joginder Kumar added another silver to the hosts' medal collection.
Joginder lost the final 0-2 (0-1, 0-3) to Canada's Arjan Bhullar in the 120 kg freestyle category.
 Anil Kumar garnered the only bronze of the day for India by beating Craig Pilling of Wales 1-0 in just 33 seconds.
 It was rather a tough fight between Anuj and Inam in the 84 kg final, during which the Indian fought tooth and nail but went down closely to the Pakistani grappler, who was more sound strategically.
 It was the second time when the national anthem of India's neighbouring country was sounded at the stadium, the first time being for Azhar Hussain, who beat E Welson of Nigeria to clinch gold in 55kg section.
 In the 84kg, the bronze went to Nigerian A Dick, who defeated G Meyer of South Africa 0-2 in the third-place play off.
 Joginder also tried to add another gold to the India's tally, but could not score even a point as Bhullar forced him out of the mat at least twice during the final battle.
 Cameroon's H Onanena got the bronze in 120kg section, beating Australian D Roberts 2-1. PTI