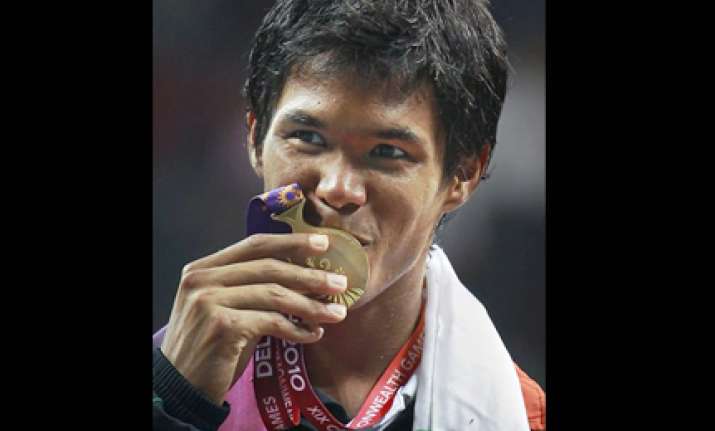 New Delhi, Oct 10: Somdev Devvarman ensured that tennis contributes in India's swelling gold medal tally as he grabbed the much-awaited yellow metal, pipping Australia's Greg Jones 6-4, 6-2 in the men's singles final of the Commonwealth Games here today.
Somdev, CWG top seed and world number 97th, was carrying millions of hopes on his shoulders after established stars Leander Paes, Mahesh Bhupathi and Sania Mirza failed to strike gold.
He has been the face of India on the singles circuit and yet again gave India a memorable moment to cherish.
"People underestimate how tough it is to get a gold medal. I worked really hard this week. I am really happy," Somdev said after the match.
"It has been one of the best things in my career for sure to win a gold medal in front of this kind of crowd," he added.
In all, India's medal tally from the tennis event stood at a disappointing four after starting as favourites in at least three of the five events in the debut year of the sport in the Games.
Jones, ranked 234, put up a gallant fight in the first set and never looked like one who is yet to win his first match on the ATP tour but was never the same in the second set, in the start of which he encountered a knee problem.
 At 15-15 in the opening game of the second set, Jones ran to reach out for a ball and hurt his left knee in the attempt.
 Although he came back after a short treatment but was not the same force as spate of errors marred his game and chances as well.
 Somdev was up 5-0 in no time but then let Jones get on board while serving for match. He though sealed the gold medal when Jones hit another long forehand.
Somdev fell on his back in joy and got up amid thunderous applause. The summit clash lasted one hour 27 minutes.
 Defeats of the pairs of Paes and Bhupathi and Paes-Sania in team events badly hit India's chances of dominating the tournament, from where several top players had pulled out.
Sania contributed two medals in four by winning a silver in women's singles and a bronze with Rushmi Chakravarthi in women's doubles.  
At the start of the match, the first six games went with serve even as Somdev created three breakpoints in the fifth game. Jones served well to save all of them as he set up points and converted them efficiently to deny the Indian chance to go up.
 Somdev too saved a break chance in the next game as a flurry of unforced errors, including a double fault, put him down at 30-40.
Jones mostly relied on attacking Somdev's backhand to pin him on the left side of the court for setting up points and was largely successful in earning a lot of points with his strategy.
 However, it was a crushing backhand past winner that earned Somdev another breakpoint in the seventh game. An unforced error on that crucial point by Jones put Somdev ahead 4-3 and then he made it 5-3 after holding his serve in the next game.
Jones reduced the margin but could not stop Somdev from taking the first set.
 Before Somdev's match, Sania won her second medal when she combined with Rushmi to grab bronze and outplayed compatriots Nirupama Sanjeev and Poojashree Venkatesh 6-4, 6-2 in the play-off match.
Paes and Bhupathi had won a bronze in men's doubles yesterday after beating Somdev and Rohan Bopanna in the play-off match.
 Meanwhile, Anastasia Rodionova, who beat Sania in the singles final, won her second gold medal when she won in the women's doubles event along with Sally Peers.
They beat compatriots Jessica Moore and Olivia Rogowska 6-3, 2-6, 6-3 in the final. PTI