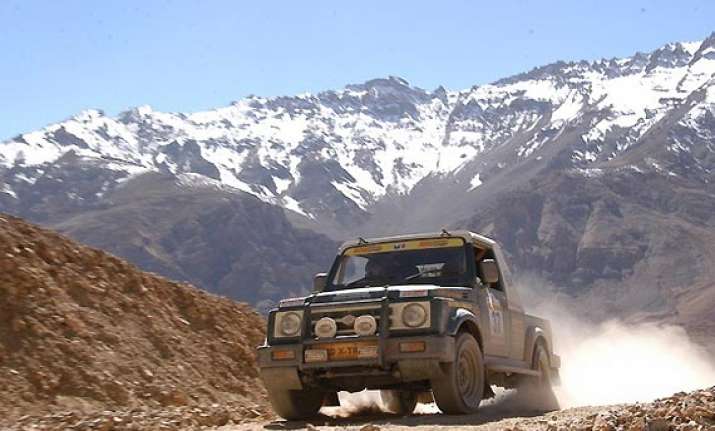 Kaza/Tabo (Himachal Pradesh): The second day of the 15th edition of Maruti Suzuki Raid-De-Himalaya proved one of the most rough in its history thus far Monday, even as eight-time champion Suresh Rana/Ashwin emerged as the fastest driver in the 76km-long single super stage event.
Rana/Ashwin recorded timing of 1.26.43 hrs. Overnight leader Amanpreet/Venu Ramesh on the other hand clocked 1.32.07 hrs.
This entails that now Suresh Rana/Ashwin has a cumulative timing of 3.13.43 hrs and are four minutes ahead of Amanpreet/Venu Ramesh who have clocked 3.17.43 hrs over two days.
While the draw is going to be tough amongst the top two, Harpreet Bawa/Virendra Kashyap managed to retain their position clocking 3.26.10 hrs but are over eight minutes behind.
In the Raid X-Treme Bikes and Moto Quad category, Bangalore lad C.S. Santosh, who is defending his title, made a strong comeback. He is now in the second place in the category with a two day cumulative timing of 3.19.04. He still has to cover a long 10 minutes of gap to truly challenge overnight leader Helmut Frauwallner.
The Austrian retains the top slot with a cumulative timing of 3.09.59 hrs while German, Stephan Rausch has clocked 3.26.00 hrs so far and retains third spot.
Earlier, both X-Treme and Adventure Trial motorsport enthusiasts undertook an iconic Himalayan Adventure by crossing the steep Rohtang Pass overnight for an early morning start from Gramphoo, the entrance to Spiti Valley.
The day had just one stage of 76.32 kms ending at Lasor in the Chandra Valley. However, it proved to be make or break day for every participant.