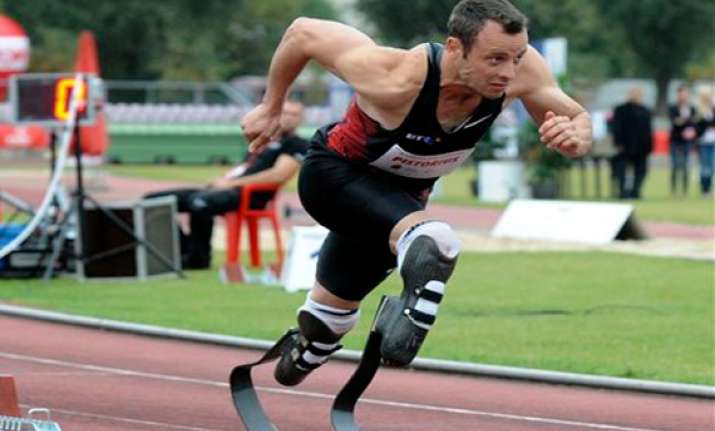 Johannesburg, Jun 20: 
Double-amputee sprinter Oscar Pistorius was included in South Africa's Paralympics team as expected on Wednesday, but time is running out for the "blade runner" to also qualify for the 400 meters at the London Olympics.
Pistorius will defend his 100, 200 and 400-meter Paralympic titles at the Paralympics, but he now has just 10 days to qualify for the one-lap race at the able-bodied Olympics and become the first amputee runner to compete at both events in the same year. The London Games start July 27.
Pistorius and swimmer Natalie du Toit were among 62 athletes named by the South African Sports Confederation and Olympic Committee for the Aug. 29-Sept. 9 Paralympics.
The two athletes have won 14 Paralympic golds between them.
Du Toit competed at the 2008 Olympics and Paralympics in Beijing and made history by carrying her country's flag at the opening ceremonies of both events.
The swimmer broke new ground four years ago after becoming the first amputee competitor at the Olympics, finishing 16th in the 10-kilometer open water swim. She then went on to win five gold medals at the Paralympics.
The London Paralympics will likely be Du Toit's last major competition.
"We thankfully have, in the shape of Oscar Pistorius and Natalie du Toit, two global superstars," said South Africa Olympic Committee President Gideon Sam.
The 25-year-old Pistorius tweeted on Wednesday that he was looking forward to defending his three Paralympic titles, but said needs to set another qualifying time in the 400 meters before June 30 to be eligible for selection for South Africa's able-bodied Olympics team.
He has at least one more chance to qualify by running the distance in 45.30 seconds at the African Championships in Benin, which start next week.
Without running the qualifying time in his favored individual distance, Pistorius could also make the Olympics if he is included in South Africa's 4x400 relay team.
The national track federation Athletics South Africa said the 4x400 team, which won silver with Pistorius at the World Championships last year in South Korea, would be picked shortly before the games.
Promising single-amputee sprinter Arnu Fourie also was picked for South Africa's Paralympic team that includes 25 track and field athletes and 10 swimmers. Athletes will also be competing in cycling and equestrian events, rowing, wheelchair basketball and wheelchair tennis tournaments.
South Africa won 30 medals -- 21 of them gold—at the Paralympics four years ago