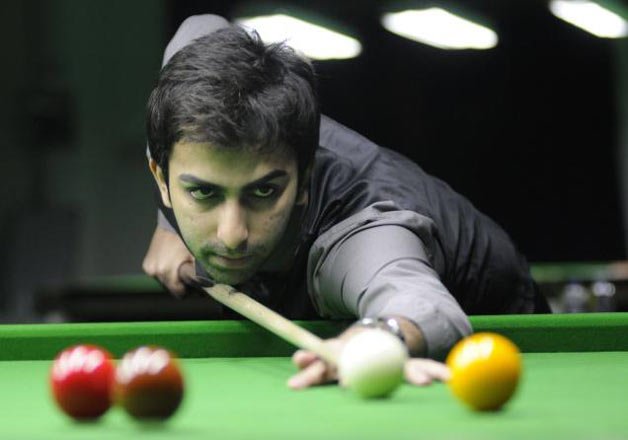 Kolkata: Twelve-time World Champion ace cueist Pankaj Advani of PSPB relied on his temperament to earn a hard-fought victory in the ninth and deciding frame over Dharminder Lilly of Punjab in the semi-finals of the Senior Snooker category in the National Snooker and Billiards Championship at the Bengal Rowing Club Friday.
The other semi-final between Delhi's Varun Madan who came up from the qualifiers and Manan Chandra of PSPB too saw the battle go down to the decider when Madan prevailed to enter his maiden National Snooker Final.
"It wasn't a great day, but sometimes you just have to do put your head down and do your best," said Advani after the victory.
"The back-to-back schedule of the quarters and the semis is quite exhausting," he added.
Lilly won the first frame against Advani comfortably at 67-13, but the latter reeled off three quick wins in the next frames to keep the full house happy.
But Lilly had other plans. He won the next two frames to level the score 3-all.
In the next frame, Advani took his time and called upon his store of temperament to win 87-00. The next frame went to Lilly who won 70-5 to set up a cliffhanger with the match poised at 4-all.
In the final frame, Advani uncharacteristically missed a shot and gave Lilly a chance.
Lilly failed to capitalise and Advani made no mistake when his turn came. He took time to play his shots, and won the final frame 76-37.
"During the break, I spoke to my coach Arvind Savur. He advised me to play my normal game and not get flustered," said Advani.
The other semi-finals say high-quality action with some great shot-selection by Varun Madan who managed to put it across Manan Chandra 5-4.
Pankaj Advani hailed the rise of Varun Madan, saying: "Varun has really come of age now. His stint in England, when I was there playing professional snooker, has really done good for him."
The Varun Madan-Manan Chandra game was a roller-coaster, with both players fighting hard to wrest control.
Chandra won the first frame, but Madan put up a high-quality display to take the next two frames comfortably with scores of 73-21 and 97(63)-4.
Chandra replied strongly and won the fourth game 69-10. The fifth frame went to Madan. The sixth and seventh frames again saw Chandra win comfortably with scores of 75-15 and 74-37.
With the score at 3-4 in Chandra's favour, it was a now-or-never situation for Madan. His unerring shot-selection pulled him ahead with the eighth frame ending at 81-48 and the score tied at 4-4. He kept up the momentum and won the ninth and deciding frame comfortably at 61-2 to set up the summit clash with Advani.
Scores
Semi Finals
(Best of 9 Frames)
Pankaj Advani beat Dharminder Lilly 5-4
13-67, 58-12, 55-8,86(68)-7,21-68, 30-68,87-0, 5-70,76-37
Varun Madan beat Manan Chandra 5-4
50-62, 73-21, 97-4, 10-69, 54-40,15-75,37-74, 81-48, 61-2
Placing 5-8
Faisal Khan (RSPB) beat Shahbaaz Adil Khan (PSPB)
Kamal Chawla beat Devendra Joshi (PSPB)
Devendra Joshi (PSPB) beat Shahbaaz Adil Khan (PSPB)
Faisal Khan beat Kamal Chawla
Quarter Finals
(Best of 9 Frames)
Pankaj Advani (PSPB) beat Faisal Khan (RSPB) 5-2
61(61)-72, 147(143)-00, 66(61)-32, 11-77, 78(74)-20, 66-59, 72-02
Dharminder Lilly (Punjab) beat Shahbaaz Adil Khan (PSPB) 5-0
61-18, 83-34, 68-24, 79-08, 85-00
Manan Chandra (PSPB) beat Devendra Joshi (PSPB) 5-2
40-60, 17-68, 75-37, 65(52)-01, 69-44, 59-49, 48-34
Varun Madan (Del) beat Kamal Chawla (RSPB) 5-3
30-72, 86(77)-02, 85-40, 32-62, 60-21, 40-74, 64-59, 68-43