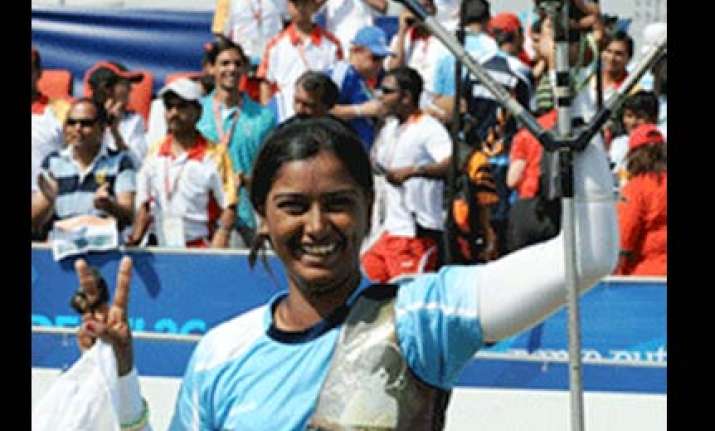 It was a dream come true for auto-rickshaw driver Shiv Charan when his daughter Deepika won the Commonwealth Games 2010 archery team gold in the recurve category.Shiv Charan's wife Geeta is a primary health centre nurse.
For years, 17-year-old Deepika used to shoot arrows from bamboo bows, at the practice range, even as her father used to constantly  struggle to run the family on a tight budget. Shiv Charan and Geeta earn about Rs 15,000 and Rs 17,000 a month, says a media report.
"We were and we are always short of money but whenever she needed anything, we cut into our domestic expenditure," says Shiv Charan, whose other two children are in school, Vidya, 13, and Deepak, 8.The 42-year-old father knocked from door to door to get his talented daughter admitted to an academy.
 In 2005, he went to Jharkhand Chief Minister Arjun Munda who runs an archery academy so that Deepika could avail of its state-of-the-art equipment and facilities
Munda set up the Arjun Archery Academy in 2003 during his first stint as CM in his Karsawan Assembly constituency.
"Mundaji's wife, Meeraji, looked at Deepika and said that she was too frail to do well in archery. But after a bit of convincing by us, she agreed and our daughter got into his academy where she got to pick up modern archery equipment for the first time," says mother Geeta.
From there, Deepika graduated to the Tata Archery Academy (TAA) in Jamshedpur in 2006 where she was provided room, board, a uniform, equipment and supplies and a stipend of Rs 500. "Many a month, we had to send her another Rs 400-500," says Geeta. "But we were sure that she was determined."
"I remember that as a little girl, when she went out into the fields to pluck mangoes, she was so good at aiming stones to hit the fruit and make it fall that her friends always took her with them and egged her on."
On Friday, the rest of the country cheered her at the Yamuna Sports Complex as Deepika got ready to shoot during the last few tense moments of the final against England. Her perfect 10 proved to be the turning point in a final that her team won by a single point and gave the country its first archery gold at the Games.
Deepika's teammates L Bombayala Devi and Dola Banerjee are also from TAA.The state government has announced a Rs 10-lakh prize for Deepika.