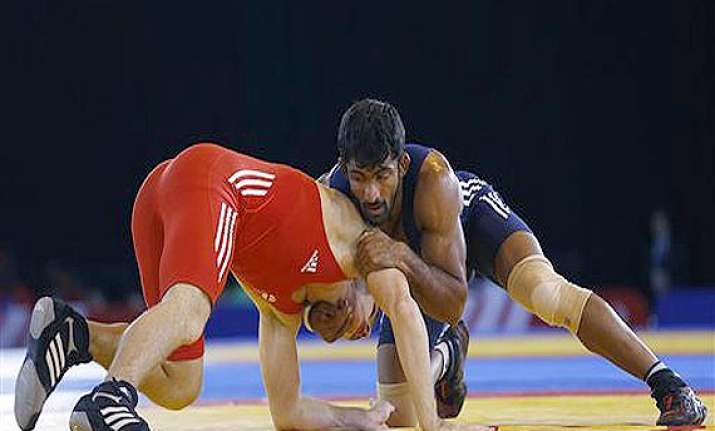 Glasgow: Three Indian grapplers, including Olympic bronze medallist Yogeshwar Dutt, qualified for the finals in their respective weight categories to ensure at least three silver for India on the third and final day of the wrestling competition in the Commonwealth Games here today.
Yogeshwar (men's 65kg freestyle), Geetika Jhakar (women's 63kg) and Babita Kumari (women's 55kg) made the finals, while Pawan Kumar (men's 86kg) will fight for the bronze medal.     
Yogeshwar used his trademark 'fitele' (leg-twisting) technique to great effect in all his three bouts of the day so far in the men's 65kg category. First, he beat Alex Gladkov of Scotland 4-0 as he rolled over the mat a few times by grabbing both the legs of his opponent to win the bout in style.     
Yogeshwar then easily defeated another Scottish wrestler Gareth Jones in the quarterfinals by employing the same technique he had used while winning bronze in London Olympics. The Indian pressed his hand on Jone's head, positioned himself at the side of his opponent and pinned him down on the
mat in a flash. He then clutched both the legs of his opponent before twisting and rolling himself over and over to get the necessary points and end the contest in one minute and 40 seconds.     
In the semifinals, Yogeshwar's Sri Lankan opponent Chamara Perera seemed to know the Indian's trademark technique and once during the bout he managed to slip out of the grip of his opponent, who was trying to twist his legs.     
Yogeshwar, however, was smart enough and he did not allow the Sri Lankan to escape the next time as he successfully used his favourite technique again to end the contest in two minute and three seconds.     
Yogeshwar won with a 0-5 verdict after taking a 10-0 lead on technical points.