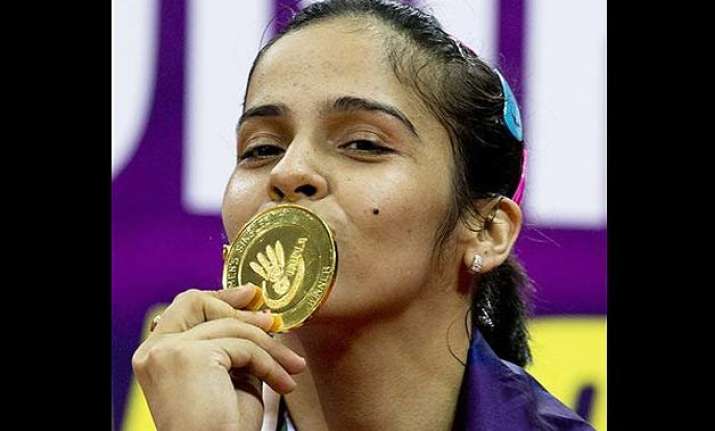 New Delhi: Relieved to clinch her maiden India Open Super Series title, badminton star Saina Nehwal today said it is a huge burden off her head as she has always struggled to win this tournament and vowed to bring more laurels for the country in future.
"I think a big burden off my head. Last four years, I was struggling, losing in pre-quarters or quarters, this is the first time I have reached the finals and won it. So too many surprises for me in this tournament, being the world no 1, winning the title. I am very proud of myself.
I never thought this day will come after so much struggle, this is the best phase of my life," Saina said after beating former world champion Ratchanok Intanon of Thailand 21-16 21-14 in the summit clash at the Siri Fort Sports Complex here today.
Explaining further, Saina said: "I think the consistency with which I am playing is great. I reached three finals in last two months and it is not easy. My shoulder is taped, so it is obviously difficult playing against top players."
Asked what is in store for future, Saina said: "Titles makes me hungry. Next I hope to win more and more titles, I hope to be fit and injury free. This result will motivate me to win more titles."
Talking about the final, Saina said: "It was a tough match. Ratchanok is one player who always gives me a tough fight whenever I play her. Last time when I played her in the Asian Games, it was a long and close match, so it is always difficult to play her as she is very deceptive and she has got some tricky shots.
"But the way I was moving today, I was picking all her tricky strokes and she was not liking it, so she made a lot of errors.
"She gets tensed when you pick her strokes. But I can see she has improved a lot. She is playing well and coming back to form. I was expecting a tough final and it was a good final. I was surprised to see so many spectators today. It was lovely crowd. It was really a fantastic match today," she said.