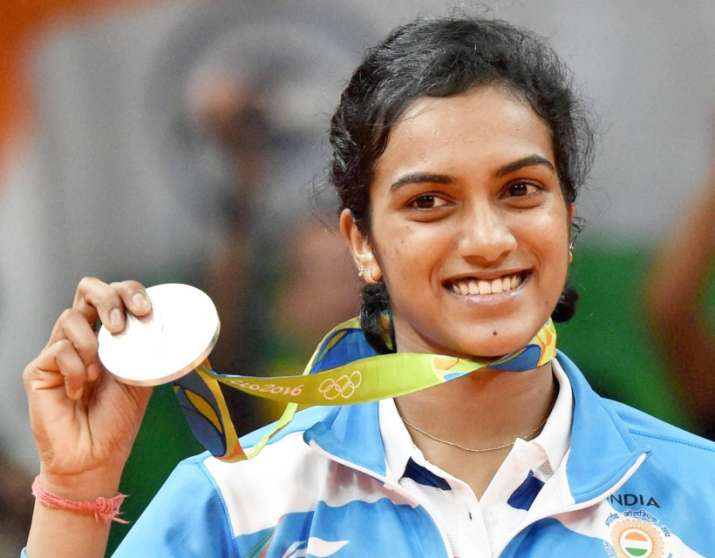 After scripting history by becoming India's first shuttler to hand an Olympic silver medal, 21-year-old star shuttler Pusarla Venkata Sindhu has now set her eyes on the World Superseries, the only trophy missing from her cabinet.
While noting that she will be the most marked player by her opponents in the upcoming tournaments, the 5' 11" tall athlete said that 'becoming the World No.1 remains her ultimate goal'.
The Hyderabadi, who returned to a hero's welcome by both the Telangana and Andhra Pradesh governments, said that her immediate aim is the Superseries.
"My immediate aim is the Superseries. I will focus on that," Sindhu, who finished runner-up at the Denmark Open last year, said.
For the World No.10, reaching the top rank remained her ultimate goal, which she had set for herself in 2012 after breaking into the top 25.
"If you keep winning tournaments, you automatically become number one. I will have to definitely work hard and give my best," said Sindhu, the only double bronze medallist from India at the World Championships.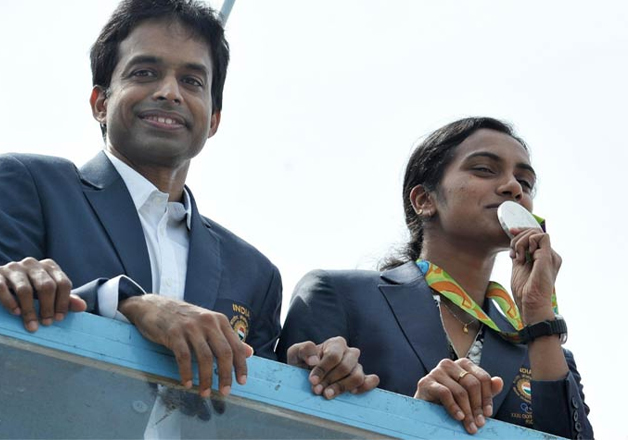 For Sindhu, whose parents are volleyball players, badminton was a passion when she held the racquet at the age of eight.
"It was a step-by-step journey. First the national circuit, then the international circuit. I was the first (Indian girl) to win a bronze at the World Championships. Slowly I got confidence in myself. I was down with injuries, ups and downs but then finally I made it," she said.
She said that her coach Pullela Gopichand believes that she is still far from a complete transformation.
When asked about which are the areas she thinks she needs to work on, she replied, "No particular one thing. I had been playing all the strokes and it is very important that you learn and you keep on learning."
"Nothing like pressure but it will depend on how I prepare. It will also depend on the strategy I have to make keeping in view what happens in a particular match," she said when asked does winning an Olympics silver increase the pressure to perform well every time she goes on court.
'I was not disappointed at the loss'
Sindhu, who went down fighting at the Rio Olympics final to Carolina Marin of Spain, the current World No.1, said there was no pressure in the crunch game.
"There was no pressure. I played my game. It was a good game. I congratulated her. She played aggressively. I never thought it's over. I believed in myself. There was one more game. I knew that she is not going to leave (the contest). She came back and the third game was equally good but she took the lead, maintained it and won," the Padma Shri awardee said.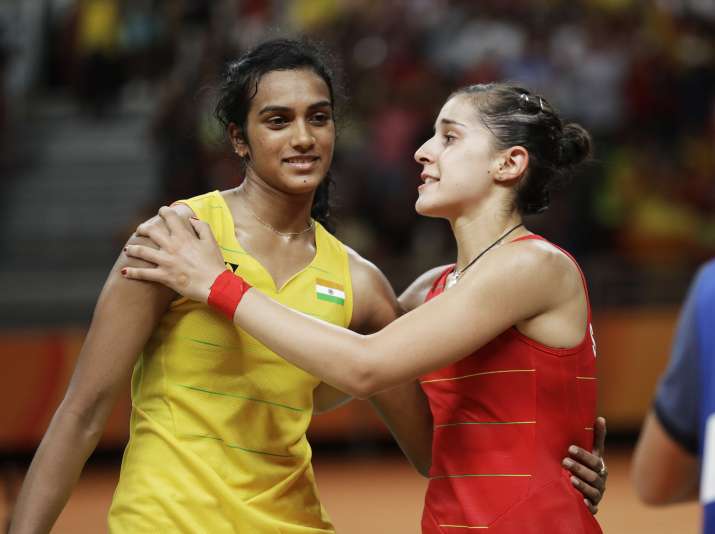 "I was not disappointed at the loss. In the final game, I thought I can come back as I did in the first game after trailing 16-19. I should appreciate her. She played with the intention of winning. Both of us were fighting equally hard. Only one can win and it was her day," Sindhu said.
"Gopi sir told me he is very happy. 'It was a good week for you, I don't want you to be upset, we did not think we will come thus far and you played brilliantly well'." Sindhu, who will join the likes of Sachin Tendulkar, Saina Nehwal, Viswanathan Anand and other respected sportpersons to receive the Khel Ratna Award, said.
When asked about the toughest match, she said, "Every match was equally tough since the first round like the one against Michelle Li (Canada). The pre-quarterfinal was also tough. Tai Tzu-ying (Chinese Taipi) was not an easy player. Then the quarterfinal against World number two Wang Yihan (China). In the past, I won few matches and she won few. It was same against Nozomi Okuhara (Japan) whom I defeated in the semifinal."
"I feel each one was equally tough and each one was totally different because everybody has a different style of game and different strategy. I never thought I will win an Olympic medal. I took it one match at a time," she added.
Sindhu also felt that the Chinese are not unbeatable as players from others countries too were playing well and coming up.
"This time I think there were no Chinese in the women's singles. They played well. (Defending champion) Li Xuerui was injured but ups and downs are always there in life. For me particularly, the match with Wang Yihan was good. She did not leave (any chances). She is a very experienced player," the first Indian woman to win an Olympics silver medal said.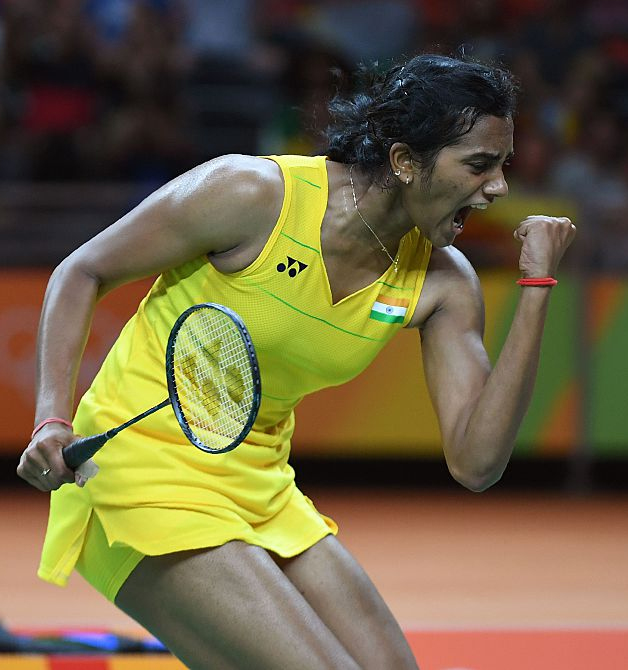 Things have changed a lot for Sindhu with the silver medal -- and it's not just the cash rewards of Rs 13.5 crore and countless other gifts one is talking about.
"It's truly different feeling. I feel my life has changed. I never thought I will get the medal at Olympics. It was my first Olympics. I am really happy. It's a dream come true," she said.
She is also elated over the fact that from the country's top leaders to celebrities, everybody rooted for her. Amitabh Bachan tweeted that he wants to take a selfie with her while Rajnikanth said he had become her fan.
"It's is a great thing. It made my day. Today I was retweeting to them to thank them. Millions of people supported me. I think their support, blessings and prayers helped me," Sindhu concluded.
With IANS Inputs