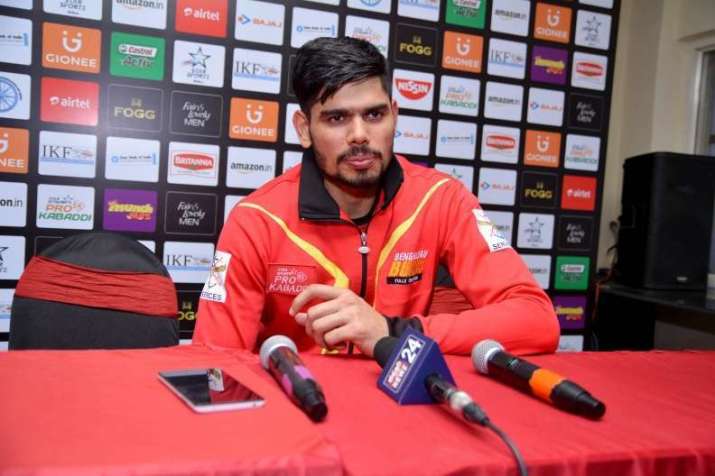 National-level kabaddi player Rohit Kumar and his family have been missing after the player's wife committed suicide in west Delhi on Monday night. A case of dowry death has been registered against the family who are accused in the case.
27-year-old Lalita was hitched to Rohit Kumar, who plays for Bengaluru Bulls in the Pro-Kabaddi League, on March 16, a senior cop said.
It was a love marriage and her second marriage. Her father-in-law used to taunt her about getting married for the second time, police said.
In order to hunt down the accused, the Nangaloi station authorities framed two groups after which it has been found that all the contact numbers of Rohit's family were exchanged off, and their Kanjhawala residence was discovered bolted.
One of the police teams is in constant touch with Rohit's relatives and neighbours to trace the accused but they were too clueless about the Rohit and his family.
Vijay Kumar, deputy commissioner of police (west), said "We need to find them to investigate the case. As of now, they are absconding," he added.
Earlier, In a long video message and a suicide note, Lalita has accused her in-laws and husband of "mental and physical harassment" over several issues, including dowry and her past.
"She has made a number of allegations in her video message and her note. She alleged that her in-laws and Rohit used to mentally and physically harass her. They would even make dowry demands," said a senior police officer.
She alleged that on October 15, Rohit told her that if she goes away from his life, he would be very happy. He dropped her halfway to her home and left, she alleged.
She also alleged that Rohit used to travel outside Delhi frequently leaving her alone which was upsetting for her.
A senior police officer said her parents gave their statement in front of the SDM and alleged that their daughter was harassed by her husband and in-laws.
"A case was registered under sections 498A (Husband or relative of husband of a woman subjecting her to cruelty) and 304(B) (dowry death)," said the officer.
Rohit's family lives in Delhi's Kanjhawla area but they are said to be absconding and since the incident and police are on the lookout for them.
Lalita's first marriage had also fallen apart because of dowry demands and she had to face similar situation in her second marriage too, which was depressing for her, said the senior police officer.
Lalita was studying at a college where Rohit used to come for swimming practice and that is how they met and got into a relationship, said a senior police officer.
The 26-year-old kabaddi player got into the Naval Forces in 2009 through the sports quota and was posted in Mumbai.
Police are currently on the lookout for him so that they can question him in the matter.