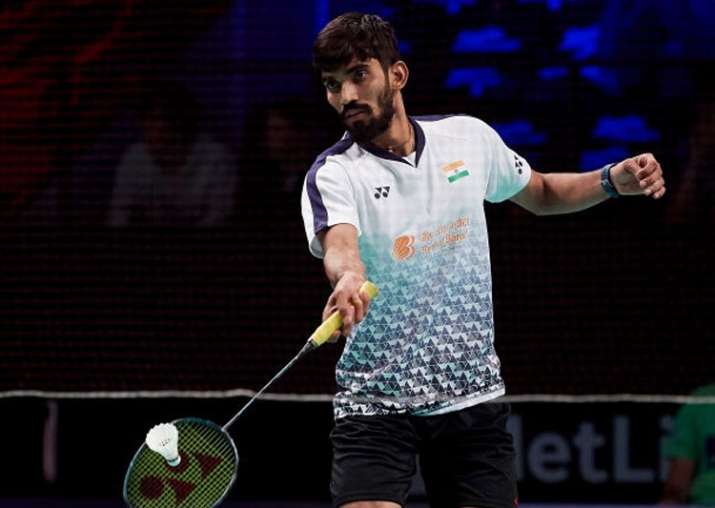 Kidambi Srikanth does it yet again. An easy win for the Indian shuttler as he defeated Japan's Kenta Nishimoto with ease by 21-14, 21-13 in straight sets to clinch the French Open Super Series. Kidambi didn't break a sweat and overall is wasn't a competition the Indian expected. Beating HS Prannoy in the semi-finals and now the unseeded Japanese opponent, Kidambi clinches his fourth super series title this year. Take a look at the highlights of the match.
HIGHLIGHTS, FRENCH OPEN SUPER SERIES FINALS: KIDAMBI SRIKANTH vs KENTA NISHIMOTO 
20.29 IST: GAME OVER!! Kidambi Srikanth wins the French Open Super Series Men's Singles in an easy game against Kenta Nishimoto. 21-13
20.27 IST: Game point for Kidambi. IND 20-12 JP
20.27 IST: Kenta fools a shot near the net to claim a point, but Kidambi strikes at once. IND 19-12 JP
20.26 IST: Well played by Kenta to keep the score intact. IND 18-11 JP
20.25 IST: Nishimoto reaches double figures. IND 17-10 JP
20.24 IST: Kidambi concedes a point after brilliant attack play from both ends, but the Indian is surely playing to a level. IND 17-9 JP
20.23 IST: Kidambi's shot hits the net and his falls to his side but makes up for it immediately. IND 14-8 JP
20.22 IST: What a shot by Kidambi to catch the Japan player off-guard. IND 13-6 JP
20.21 IST: A great shot by Kenta, back and forth they both went but it was the Japan shuttler which smashed the shot. IND 11-6 IND
20.20 IST: Kidambi reaches eleven, Kenta has a lot of work to do. IND 11-5 JP
20.19 IST: Kenta smashes a powerful shot to half the lead. IND 10-5 JP
20.18 IST: Nishimoto catches Kidambi off guard to claim a point. IND 10-4 JP
20.17 IST: One way traffic at the moment and the Indian leads. IND 9-2 JP
20.16 IST: A shot way off the line and service given to Kidambi. IND 7-2 JP
20.15 IST: A master class by Srikanth as both near the net, the Indian smashes the shot. IND 5-2 JP
20.15 IST: Kidambi Srikanth leads. Kenta's shot hits is own net to give the Indian a lead. IND 4-0 JP
20.14 IST: Kenta's shot is way off court to give Kidambi another point. IND 2-0 JP
20.12 IST: The second game gets underway and Kidambi takes the lead. IND 1-0 JP
20.11 IST: Kidambi Srikanth clinches the first game. IND 21-14 JP
20.10 IST: GAME POINT for Kidambi as he sends a shot down the left flank. IND 21-14 JP
20.10 IST: Kidambi's shot hits the top of the net and drops back in his side. IND 19-14 JP
20.08 IST: Kidambi smashes one to lead. IND 19-13 JP
20.08 IST: A power hit from Kidambi that Kenta could not handle. IND 18-12 JP
20.08 IST: Kidambi plays a slow shot on a far-off hit from Kenta to lead. IND 17-12 JP
20.07 IST: Kenta brings a point back with a good shot near the net, Kidambi strikes back. IND 15-11 JP
20.05 IST: Kidambi takes the lead with good shots against Nishimoto. IND 14-10 JP
20.04 IST: Service over, Nishimoto brings one back. IND 11-10 JP
20.02 IST: Kidambi leads with a powerful shot. The Indian shuttler takes his time to play a slow shot in a back and forth match. IND 11-9 JP
20.01 IST: Kidambi levels the score against Nishimoto. IND 9-9 JP
20.01 IST: An absolute smashing hit by Kidambi. IND 7-9 JP
20.00 IST: Kidambi's shot just hits the right post of the net to gift a point to Nishimoto. IND 6-9 JP
19.59 IST: Nishimoto takes the lead in this fast pace match. IND 5-8 JP
19.58 IST: Service change, Nishimoto gets underway but Kidambi play's it smart to hit down the far right flank. IND 7-5 JP
19.58 IST: Kidambi pulls one back immediately, but Nishimoto plays it slow on the Indian's shots. IND 3-4 JP
19.57 IST: Nishimoto lead by 2 points as Kidambi's shots emerge too powerful. IND 2-3 JP
19.56 IST: Kidambi smashes but Nishimoto slowly plays to lead. IND 2-2 JP
19.54 IST: Kidambi starts the scoring as the shuttlecock is sent out of court. IND 1-0 JP
19.53 IST: And we start with the Men's Singles match. Srikanth to serve first.
19.48 IST: The two finalist, Nishimoto and Srikanth make their way into the arena as we get the match underway.
19.46 IST: Kidambi Srikanth defeated his Indian comrade HS Prannoy to enter the Men's singles finals.
19.42 IST: Up next is that the match we all await for, India's Kidambi Srikanth taking on Japan's Kenta Nishimoto.
19.37 IST: We have just ended with the French Open Mixed Doubles match and the Indonesians have emerged victorious over the China's duo. Tonotowi Ahmad and Lilyana Natsir have defeated China's Zheng Siwei and Chen Qingchen to win the Mixed Doubles in the French Open Super Series.