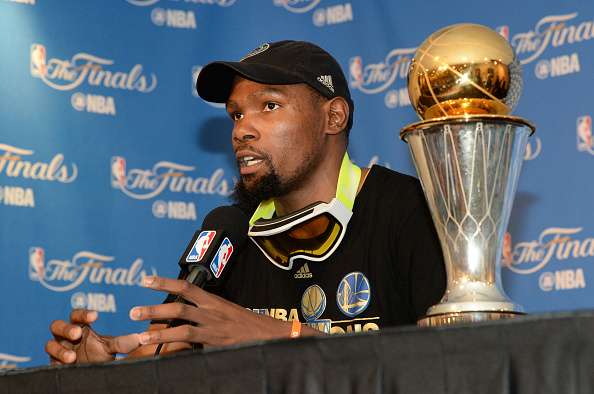 NBA superstar Kevin Durant's recent visit to India didn't turn out the way he expected it to. Durant, who was awarded with the title of the Most Valuable Player in NBA season 2016-17, returned home with a huge cultural shock. Durant was a part of the Golden State Warriors that won the NBA in the 2016-2017 season. 
Durant was in the National Capital Region, visiting schools and posing alongside Bollywood celebrities and creating a Guinness world record, a surprising activity to accomplish on his two-day trip to India.
Durant sure created memories but certainly left the nation with statements that leave us with the bitter truth that is not handled very well by the people. 
"Um, it was a unique experience. I went with no expectation, no view on what it's supposed to be like. I usually go to places where I at least have a view in my head. India, I'm thinking I'm going to be around palaces and royalty and gold, basically thought I was going to Dubai. Then when I landed there, I saw the culture and how they live and it was rough," Durant told The Athletic in an interview after returning home.
Durant expected a scenery of what he must have seen in movies but apparently, Slumdog Millionaire wasn't one of them.
"It's a country that's 20 years behind in terms of knowledge and experience. You see cows in the street, monkeys running around everywhere, hundreds of people on the side of the road, a million cars and no traffic violations. Just a bunch of underprivileged people there and they want to learn how to play basketball. That was really, really dope to me," said Durant.
"Yeah. As I was driving up to the Taj Mahal, like I said, I thought that this would be holy ground, super protected, very very clean. And as I'm driving up, it's like, s—, this used to remind me of some neighbourhoods I would ride through as a kid. Mud in the middle of the street, houses were not finished but there were people living in them. No doors. No windows. The cows in the street, stray dogs and then, boom, Taj Mahal, one of the seven wonders of the world. It's like holy s***, this was built 500 years ago and everyone comes here. It's just an eye-opener," he said.
These statements would surely not be considered bold because the truth lies right in front of us and it's simply one of the facts that one must admit to.
Durant was at the NBA Academy in Greater Noida, where he attempted the Guinness World record for the largest Basketball clinic ever by training 5,000 kids at the same time. Thousands of others joined in through video conferencing. 
The Golden State Warrior's player has certainly left us to think about something.