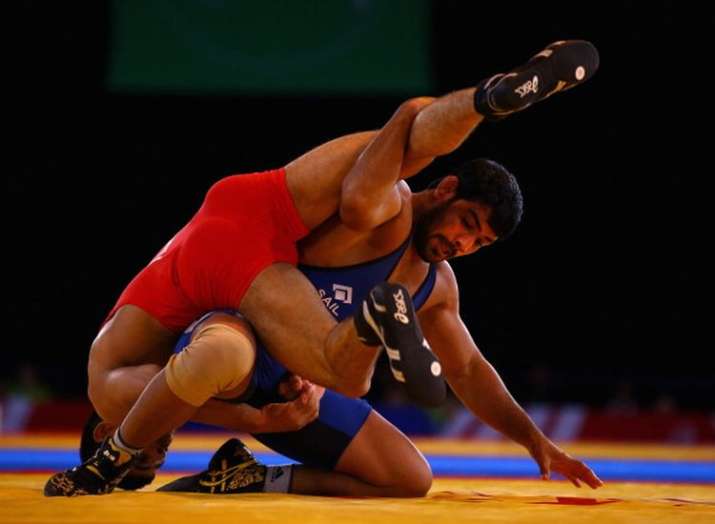 India's two-time Olympic medallist wrestler Sushil Kumar dismissed his alleged involvement in the brawl, which took place between supporters of him and fellow wrestler Praveen Rana, urging his fans not to do such things in future.
Earlier on Saturday, a case was registered against Sushil and his supporters under Section 323 (voluntarily causing hurt) and 341 (wrongful restraint) of the Indian Penal Code (IPC) in connection with the scuffle that took place yesterday after the trials for the 2018 Gold Coast Commonwealth Games at the KD Jadhav wrestling hall of the Indira Gandhi Indoor Stadium here in the national capital.
Condemning the violence, Sushil said that such act could have been avoided, insisting that loss and victory should be taken in good stride.
"I want to repeat that such things should not happen in sports. I got the news from media only that a scuffle had taken place. There were so many people that it was really difficult to tell what was going on. But whatever has happened should not have happened. These things do not take place in sports. A game should be played with sportsmanspirit. Both loss and victory should be taken in good stride," Sushil told ANI.
The 34-year-old further reiterated his disappointment over the incident and pointed out that he too got injuries during the match but he did not complaint like Praveen.
"I have always played for my country and won medals for my nation. And I have returned to the mat for this only. And when you get to know such incidents, you feel really bad. I just want to convey that I am the senior among other wrestlers in the team and I treat them as my young brothers or sons. And I believe that these things should not be brought in sports," he said.
"I have also got injuries during the clash, but I did not complain about it. Have you ever seen a person who won a match creating nuisance? But so many things are coming up in the media. I felt really weird that I came back after so long and these things happened," Sushil added.
He further said, "I want to thank all those who supported me yesterday. The countrymen showered me with love and support. People from various states like Maharashtra, Delhi, UP and Haryana came to support me. So, I want to thank all of them. I would like to tell Praveen that things should be said carefully. I have always tried to help young wrestlers. Neither do I like these things nor do I favour them. There should be discipline, one shouldn't play roughly. We are wresting for the country."
The incident took place minutes after Sushil qualified for the 2018 Games, to be held in April next year, following his 7-3 victory over Parveen in the semi-final bout before barely managing to edge past another grappler Jitender Kumar 4-3 in a keenly-contested final round of the 74-kg weight category.
A group of over 40 people entered the warm-up hall, ransacked the property and attacked each other mercilessly. The reason behind the scuffle is yet to be ascertained.
The country's most decorated wrestler, Sushil, recently won the Commonwealth Wrestling Championships, after making his international comeback. He took a three-year break following an injury.
Meanwhile, it should be noted that when Narsingh Yadav's participation was in doubt during the Rio Games, Wrestling Federation of India (WFI) had nominated Parveen as his replacement to the United World Wrestling (UWW) but later decided to send Narsingh. 
(With ANI inputs)