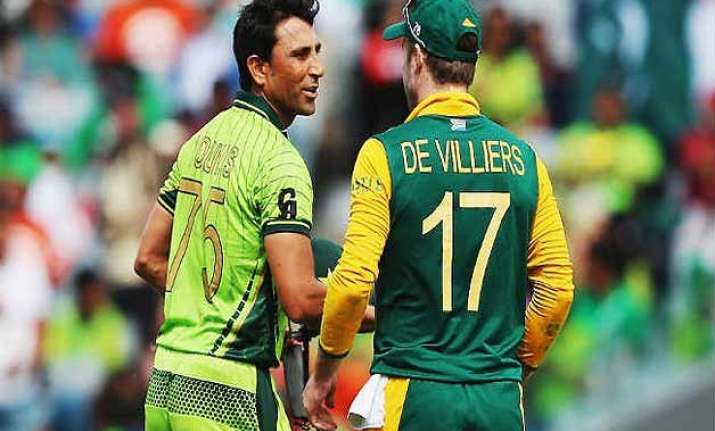 Karachi: Pakistan's senior batsman Younis Khan, who has been struggling to retain his place in the ODI playing XI, says he is ready to bat anywhere in the line-up as he wants to do well for his team in the ongoing ICC cricket World Cup.
"I am always ready to bat anywhere for Pakistan because I want to perform all the time," Younis told reporters in Adelaide today.
Younis was sent as the makeshift opener against India in Pakistan's World Cup opening match but he failed miserably. In the second game against the West Indies, he scored a duck coming in at No. 3 position. He was subsequently dropped for the next two matches.
The 37-year-old made a comeback in the game against South Africa and scored 37 as one down batsman.
"The sort of person I am everyone knows and I left the captaincy myself in the past. But as a person and human being you learn every day and now I know how big an honour it is to lead your team, perform and take your team somewhere.
"I was captain when we won the Twenty20 World Cup in 2009 and it really felt good. Now I just want to be a part of a team that can win this World Cup," insisted Younis.
Forced to sit out because of his poor form, Younis admitted it was a frustrating experience for him.
"My frame of mind is always positive regardless of whether I play or not. I am always in the game. But I have always wanted to perform for Pakistan, so it is frustrating to sit out. But it is part of life...You have good days and bad days and you learn from that," he said.
Younis said that Pakistan's batting needed to improve to compete with big teams.
"We need to improve a lot like other teams. See how their top-order perform and it will be good if our batsmen also get big scores in knockout stage. The change in fielding restriction rule has given batsmen the edge.
"But there is no need to be overly aggressive. If you play positively and remain at the crease, it is not difficult to score 350 plus," he pointed out.