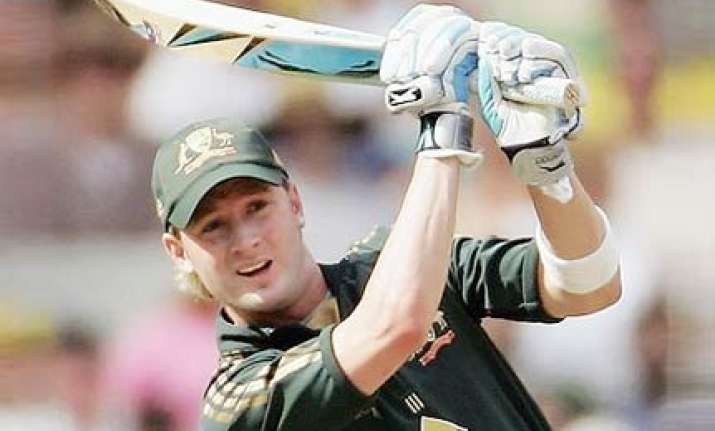 Visakhapatnam, October 19 (PTI) Under-fire Michael Clarke today said he deserved the criticism after a string of poor shows in their 0-2 Test series loss and the stand-in skipper said that it's time to look forward and return to winning ways.
Clarke, who scored just 35 runs from four innings in the two-Test series, said, "My performance in the Test series wasn't good enough so I deserved that criticism and I am very disapppointed about that."
But he said he was not under pressure to peform in the limited overs matches as they play the second ODI against India tomorrow.
The first ODI was washed out after a heavy downpour in Kochi.
"I am not at all under pressure. Everybody is entitled to voice their opinion. I can't change that. I'm training very hard as possibly as I can. I'm really excited about these two one-day games. My main priority is to win the two ODIs. We are really excited about the bright weather, hope it continues tomorrow."
Asked about the status of their frontline pacer Doug Bollinger, Clarke said they were yet to decide on him.
"He is going well, though he has not done enough bowling though. It's an important day for him today, he will have to bowl at the nets. Physio is happy with his improvement. But we need to make sure he bowls 10 overs for us tomorrow, otherwise I don't think it's worth a risk."
Bollinger had to pull out of the second Test in Bangalore because of an abdominal strain.
Asked whether they were short of match practice after the washout in Kochi, Clarke said both the teams did not get to bat or bowl so this could not be an disadvantage.
"We have no excuse, we have one day to get ready and give our best tomorrow. It's about getting what you can do today. It's a huge one-day series, there are a lot of new guys. It's going to be fantastic experience. It will be tough. India have got a young squad but there is a lot of talent out there," Clarke said.
The skipper said the Aussies always enjoy playing in India the youngsters would get a lot of experience.
"I enjoy coming to India. It's a wonderful place to come here. Apart from the Test series result, we had a really good time. I'm looking forward to match. Fans love seeing competitive cricket and we Australians bring that."
Clarke said they were yet to decide on the XI but stated that opener David Warner and rookie left-arm pacer (Mitchell Starc) might be drafted in.