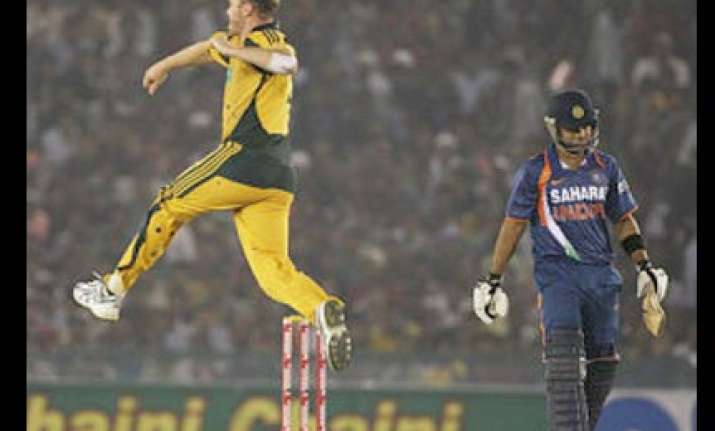 Let down by the batsmen, India slumped to a 24-run defeat in the fourth one-dayer that not only allowed Australia to level the seven-match cricket series 2-2 but also prolonged the hosts' wait to become the number one ODI team in the world in Mohali on Monday night.
Chasing 251, India got off to a flier with Virender Sehwag (30 off 19 balls) looking eager to wrap up the issue and Sachin Tendulkar (40) going great guns.
But their undoing was no less spectacular as the middle and lower could not forge a single significant partnership and the team folded for 226 in 46.4 overs.
Earlier put into bat, Australia stitched together half-centuries from Ponting (52) and White (62) and cameos from Shane Watson (49) and Michael Hussey (40) to reach 250 before wilting in 49.2 overs.
India's chase got off to a blazing start with Sehwag displaying the kind of power-hitting on which he has built his career around.
 
The first ball raced to the fence off his blade faster than it had arrived and it was a bad omen for Mitchell Johnson.
The hapless birthday boy copped three boundaries in his next over and an encore of the treatment meant the Australian spearhead had hemorrhaged 34 runs in his first three overs before Ponting spared further trauma by withdrawing him from attack.
It was too good to last for long and relief for Australia came soon when Sehwag fell to Doug Bollinger in the seventh over and Virat Kohli (10), replacing Gautam Gambhir, squandered yet another opportunity to impress, leaving India at 78 for two.
 
With Sachin Tendulkar in pursuit of yet another batting milestone -- 47 runs separated him from the 17,000 mark when he walked out -- and looking in good nick, the crowd had enough to look forward to till an Ashoka de Silva howler spoiled their party.
Fluent initially and aware of the imminent milestone as he approached it, Tendulkar was hit on the pad by an innocuous Nathan Hauritz delivery that was missing the leg stump but de Silva raised his dreaded finger to send groans across the chock-a-block stadium.
At 94 for three, captain Mahendra Singh Dhoni (26) and Yuvraj Singh (12) had a task uncannily similar to the one they had accomplished in the previous match in Delhi but this time their association was nipped in the bud by a Ricky Ponting direct throw that sent back Yuvraj.
Dhoni then became Bollinger's third victim, Hauritz castled Suresh Raina (17) and Ravindra Jadeja (7) ran himself out, leaving India gasping at 177 for seven in the 39th over.
Down the order Harbhajan Singh's 25-ball 35 -- like the series opener in Vadodara -- was entertaining but not clinching.
Earlier, fluent half-centuries from Ricky Ponting (52) and Cameron White (62) and brisk cameos from Shane Watson (49) and Michael Hussey (40) guided laid the perfect foundation for an imposing total before Australia ran out of steam and wilted in the end.
Going strong at 196 for three, Australia came unstuck in the 39th over, fumbling in the batting powerplay, which cost them four wickets earning just 27 runs, before eventually folding for a total that was far less than they would have anticipated.
Ashish Nehra (3/37) was pick of the Indian bowlers -- Harbhajan also grabbed a couple of wickets -- and he drew first blood in the eighth over when he struck Shaun Marsh  (5) low and plumb.
Ponting, however, looked in sublime touch.
 Dhoni unleashed Ishant Sharma, hoping the beanpole pacer would once again torment the Australian captain like he had done in the past but Ponting, not in a no mood to oblige, nonchalantly hit his nemesis over long-on for a neat six, following it with a boundary.
The duo had added 64 runs when Dhoni pressed Harbhajan Singh into service and collaborated with the spinner to remove Watson off Harbhajan's first delivery.
Ponting didn't allow the setback to bog him down and played with blithe abandon. One swept boundary off Harbhajan brought up his fifty but Ravindra Jadeja's direct throw cut short his stay, much to Dhoni's relief.
Back in the dressing room, Ponting, however, had the satisfaction of watching Hussey and White continuing the good work with some sensible cricket during their 73-run stand.
 White smote Yuvraj over mid-wicket for a six before inflicting some damage on Ishan't bowling figure.
In-form Hussey, on his part, negotiated the spinners with aplomb and once stepped out to hit Yuvraj over the ropes.
Hussey was looking good for his fifty when he holed out to Ishant, trying to hit Yuvraj out of the ground.
Australia lost White just after they had taken the batting powerplay and with Johnson doing precious nothing to enhance his all-rounder claim, Australia barely managed to reach the 250-mark. PTI