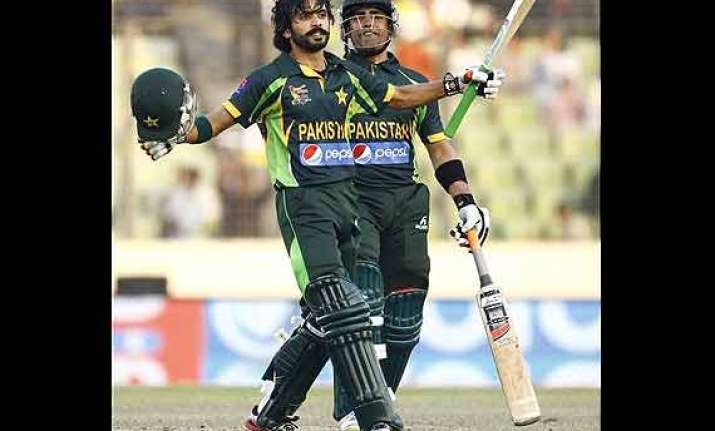 MIRPUR, Bangladesh: Scoreboard Saturday after Sri Lanka defeated Pakistan by five wickets in the Asia Cup final at Sher-e-Bangla Stadium:
Pakistan
   Sharjeel Khan c TPerera c Malinga 8
   Ahmed Shehzad c Sangakkara b Malinga 5
   Mohammad Hafeez c Sangakkara b Malinga 3
   Misbah-ul-Haq c KPerera b Malinga 65
   Fawad Alam not out 114
   Umar Akmal c Priyanjan b Malinga 59
   Shahid Afridi not out 0
   Extras: (1lb, 5w) 6
   TOTAL: (for 5 wickets) 260
   Overs: 50
   Fall of wickets: 1-8, 2-17, 3-18, 4-140, 5-255.   
Did not bat: Mohammad Talha, Umar Gul, Saeed Ajmal, Junaid Khan.   
Bowling: Lasith Malinga 10-0-56-5, Suranga Lakmal 10-2-41-0 (1w), Sachitra Senanayake 9-0-54-0, Thisara Perera 10-1-66-0 (2w), Angelo Mathews 7-1-23-0 (1w), Chaturanga de Silva 4-0-19-0.
Sri Lanka
   Kusal Perera st Akmal b Ajmal 42
   Lahiru Thirimanne b Ajmal 101
   Kumar Sangakkara lbw b Ajmal 0
   Mahela Jaywardene c Khan b Talha 75
   Ashan Priyanjan c Akmal b Junaid 13
   Angelo Mathews not out 16
   Chaturanga de Silva not out 6
   Extras: (1b, 1lb, 5w, 1nb) 8
   TOTAL: (for 5 wickets) 261
   Overs: 46.2
   Fall of wickets: 1-56, 2-56, 3-212, 4-233, 5-247.   
Did not bat: Thisara Perera, Sachitra Senanayake, Suranga Lakmal, Lasith Malinga.   
Bowling: Mohammad Hafeez 9-0-42-0 (1w), Umar Gul 6-0-44-0 (1w), Junaid Khan 9-0-56-1, Saeed Ajmal 10-2-26-3 (3w), Mohammad Talha 6.2-0-56-1 (1nb), Shahid Afridi 6-0-35-0   
Result: Sri Lanka won by 5 wickets   
Toss: Pakistan