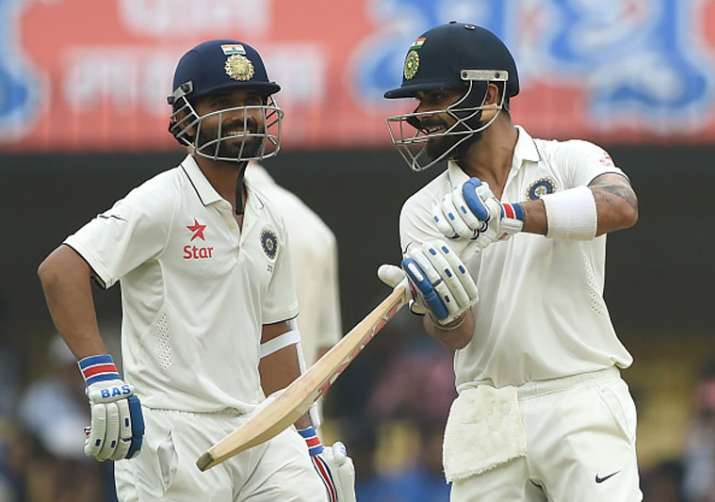 Virat Kohli and Ajinkya Rahane are like chalk and cheese. One is a live wire on the field, other's a monk. But for every Virat Kohli, you need an Ajinkya Rahane as they come together to create a nice balance of caution and aggression that any champion outfit needs. Kohli has time and again praised Rahane, saying his presence brings a balance to the side and together they form a combination which has played a key role in India's quest to the top of the Test rankings. 
India won a record 10 out of the 13 Test matches they played at home during a marathon season and went on to become the No.1 Test team in the world. And now as they gear up to embark on a new Test season, India TV caught up with Rahane for a freewheeling chat in Mumbai.
Rahane, who is fresh from a Caribbean limited-overs sojourn, said the team is fully prepared for the challenges ahead. 
The Mumbai batsman also praised Kohli, saying that the 28-year-old has evolved both as a cricketer and as captain.
"Virat Kohli has matured a lot. He has taken his game to a different level. As a captain, he always plays to win and has a lot of offer to the players," Rahane told India TV.
"We had a great Test season where we dominated every opposition. Now, we will play out of India and it will be a big challenge for us. But we are also ready for it. We have the required weapons in our arsenal," Rahane added.
Rahane said the West Indies tour boosted his confidence. He scored a total of 336 runs, including a century.
"I got a lot of confidence from the West Indies tour. It was necessary for my ODI career. Wickets were slow and the batsmen were required to buy time on the wicket," he said.
Rahane also said that it was a proud moment for him to captain the team to a memorable victory against Australia in Dharamsala earlier this year.
"It was a proud moment for me to captain the team in Dharamsala. Unfortunately, Virat was out injured. But I learnt a lot in that match," he said.
The Indian team will be travelling to Sri Lanka later this month for a three Tests, five ODIs and one-off T20I. The first Test will start from July 26 at Galle.
Rahane said India are not taking Sri Lanka lightly.
"Sri Lanka will be a good challenge. They have a good team and we respect them," he said.
(With special inputs from India TV Sports Correspondent Vaibhav Bhola in Mumbai)