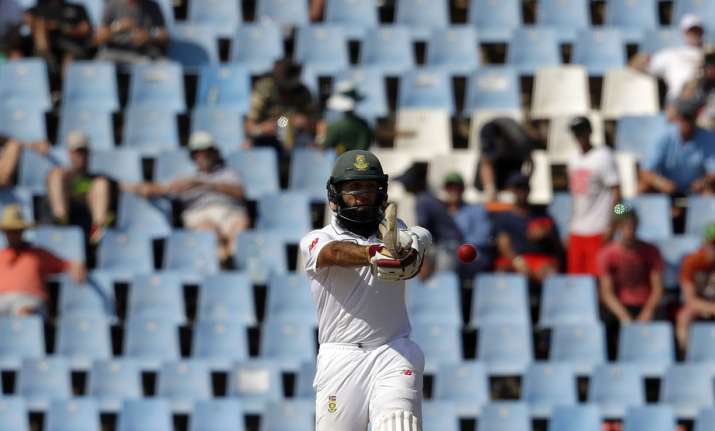 INDIA VS SOUTH AFRICA, 2ND TEST, DAY 1: CRICKET SCORE HIGHLIGHTS - CENTURION
Here you can catch the live cricket score online, live updates, current match scores of the second Test of the three-match series. India have managed to fight their way back into the game in the last session. In which 37 overs were bowled, 87 runs were scored and 4 wickets were taken. It all started with
Ishant Sharma
knocking over AB de Villiers (20) after the break. Amla and du Plessis did look like steadying the ship but a piece of brilliance in the field by Pandya saw the latter being run-out for 82. Also, two quick wickets after that has seen the match hang in the balance heading into day 2.
Earlier in the day, after winning the toss, South Africa were cruising along till the last hour of play with Markram missing out on a ton by 6 runs and Amla by 18. They looked set to post a big first innings score before wickets fell in heaps towards the end. Ashwin was the pick of the bowlers for the Indians with three wickets. South Africa still have their captain out there and they would hope for him to take them to a respectable total. Whereas India, will look to come out tomorrow and take the remaining wickets as quick as possible. Do join us for the second day at 1000 local (0800 GMT). Till then take care and good bye. (MATCH SCORECARD).
HIGHLIGHTS: INDIA vs SOUTH AFRICA DAY 1, 2ND TEST AT CENTURION
20.56 IST: India have managed to fight their way back into the game in the last session. In which 37 overs were bowled, 87 runs were scored and 4 wickets were taken. It all started with Ishant Sharma knocking over de Villiers after the break. Amla and du Plessis did look like steadying the ship but a piece of brilliance in the field by Pandya saw the latter being run out 18 shot of a ton. Also two quick wickets after that has seen the match hang in the balance heading into day 2.
20.55 IST: 
That's Stumps on Day 1, South Africa 269/6 (Markram 94, Amla 82; Ashwin 3/90) #SAvIND pic.twitter.com/4SpUWg1jt7

— BCCI (@BCCI) January 13, 2018
20.51 IST: Maharaj survives! Bumrah goes for a yorker but ends up bowling a high full toss on off. He defends it solidly. THAT IS STUMPS ON DAY 1! SA 269/9 in 90 overs
Jasprit Bumrah to bowl the last over of the day.
20.45 IST: MAIDEN! Excellent length to finish from Ishant! He bowls it on off, Faf defends it off the front foot. SA 266/6 in 89 overs
Ishant Sharma to bowl the penultimate over of the day.
20.40 IST: HOWZAT! A huge appeal again! It is all happening out there. Ashwin tosses this one up on middle, it turns back in. Maharaj tries to defend but it goes off something, maybe the pads to the right of Kohli who runs and completes a catch and appeals. The umpire though shakes his head. The Indians have a chat but then opt not to review. SA 266/6 in 88 overs
20.38 IST: FOUR! What just happened there? Has Jadeja the sub not picked it. Ashwin drags his length back on middle, Maharaj goes back and pulls it uppishly towards deep mid-wicket. Jadeja there seems to have not picked it as the ball goes over his head at catchable height and once bounce into the fence. Virat Kohli is not a happy man there, nor is Ashwin. SA 266/6 in 87.2 overs
20.36 IST: A big appeal! A full ball on middle and leg. Maharaj tries to flick by planting his front foot across. He misses and the ball hits him on the pads. The players appeal but the umpire shakes his head. Going down leg! SA 262/6 in 87 overs
20.34 IST: So India have decided to take the second new ball. 22 balls left in a day. They will hope to get one more with the new cherry.
20.28 IST: FOUR! Caressed! Full and on off, du Plessis leans into it and drives it through covers for a boundary. SA 260/6 in 85 overs
20.23 IST: FOUR! Off the mark in style! Ashwin tosses it up on off but bowls it too full. Maharaj drives it straight down the ground for a boundary. SA 256/6 in 83.4 overs
Keshav Maharaj strides out to the middle.
20.19 IST: OUT! Confusion and a run-out! Second of the innings! Where were you going Philander? Pandya once again bangs it short middle, Philander tries to defend but the ball hits the top off the bat and goes uppishly besides the pitch on the leg side. Without looking at his partner he sets off for a run. Faf from the non-striker's end puts his left hand up and is saying no. Philander is ball watching as he continues running. Both the batsmen are stranded at the non-striker's end. Parthiv Patel collects the ball and throws it back to Pandya at the striker's end who takes the bails off. Three wickets in the last three overs and this is an excellent end to the day for India. SA 251/6 in 83 overs
Vernon Philander walks out at no. 7.
20.12 IST: OUT! EDGED AND TAKEN! De Kock bags a golden duck, his first in his career. Two quick wickets for India and Ashwin once again is the man who gets it, picking his third. He tosses this one up on off, gets it to straighten. De Kock pushes hard at it as he looks to punch. IT takes the outside edge and straight into the hands of Kohli who takes it at first slip. The skipper is up and running and is overwhelmed with the wicket of the dangerous de Kock. India have fought their way back into the game. Can they price out another scalp before the day ends? SA 250/5 in 81.1 overs
20.10 IST: FOUR! 250 up for the hosts. Streaky but Faf won't mind. Pandya lands it on a length around off, de Plessis tries to defend but gets an inside edge through fine leg for a boundary.  SA 250/5 in 81 overs
Quinton de Kock walks out to the middle.
20.10 IST: OUT! Amla is gone! A huge wicket for India courtesy a run-out. Brilliant work by Hardik Pandya, great athleticism shown there by the youngster. He bangs it in short on middle, gets good bounce on delivery. Amla plays it quite well as he gets on top of the bounce and tucks it besides the pitch on the leg side. Du Plessis calls him for a run and Amla responds. He too sets off. Pandya runs quickly towards the ball, picks it up, swivels and BANG, he scores a direct hit at the non-striker's end and appeals. The umpire goes upstairs and the replays show, Amla is short. The 47-run stand has been broken. Also, Amla misses his ton by 18 runs. The Indians are all pumped and why not this is just what they wanted before the close of play. SA 246/4 in 80.5 overs
20.08 IST: Is Amla a goner? There is a direct hit at the non-striker's end and Amla is the man in question. Looking at Amla's body language he seems to be short. Brilliant work by Pandya and he is quite confident.
The second new ball is now available. The question is will India take it immediately?
20.04 IST: SA 245/3 in 80 overs
20.01 IST: The on-air commentators make a fair point. Even though Ashwin has bowled one-third of the overs bowled by India today they still have a slow over-rate. Maybe the fast bowlers are taking their time and bowling due to the heat.
19.56 IST: Just a single from the over. SA 240/3 in 78 overs
19.55 IST: 
19.46 IST: Time for Drinks! South Africa are successfully keeping the Indians at bay. Although they are failing to convert their 50-runs stands to something substantial, the runs are flowing slowly. Amla is on course to get to yet another Test hundred. The visitors are desperately in need of a breakthrough and who will Kohli turn to? The only solace for them will be that the Proteas aren't running away with the game at this stage as their run rate is pretty low.
19.45 IST: MAIDEN! This is angled in and the ball stays low. Amla plays it with an angled bat towards mid-wicket. SA 239/3 in 76 overs
19.40 IST: Du Plessis shows the full face of the bat and defends the ball off the back foot. Just a single from Bumrah's over. SA 236/3 in 74 overs
Double change. Jasprit Bumrah has the ball in hand now.
19.35 IST: Amla taps it and run in front of point. That's the fourth time in the last 6-7 overs that he has done that, 2 runs from the over. SA 235/3 in 73 overs
Hardik Pandya is back for another spell.
19.30 IST: FOUR! The frequency with which Ashwin has dished out bad balls today is not good for anybody's liking. He throws this wide outside off, allows Amla to exploit the off side. He does so gleefully and drives it through covers for a boundary. SA 233/3 in 71.4 overs
19.25 IST: A run taken on the last ball of the over as Amla pushes it through mid-wicket. SA 224/3 in 70 overs
19.22 IST: FOUR! Oh Ishant! Pollock says that he's put in a big effort there. Shami overpitches this one on the stumps, du Plessis drives it down the ground. Sharma gets to his left, puts in the slide but fails to stop the ball. A boundary it is. SA 223/3 in 69 overs
19.15 IST: FOUR! Lovely, lovely stroke! Ashwin gives more air to this one and serves it full outside off. Amla gets to the pitch of the ball and drives it nicely through covers for a boundary. SA 217/3 in 67.3 overs
19.13 IST: FOUR! Much better! Shami bowls this on a length outside off, Amla moves across a bit and slaps it through cover-point. Such has been the timing that the ball speeds away to the fence, beating the man in the deep who was running to his right. SA 213/3 in 67 overs
Mohammed Shami is brought back to bowl. Wonder how good he is feeling as he had walked off just before tea. Perhaps there is reverse swing on offer and hence Kohli has gone to Shami here. Also, the Indians are seen throwing the ball on the bounce, in order to scuff up on side which will aid reverse swing.
19.06 IST: FOUR! Short ball on off, pulled away nicely through the backward square leg. The ball speeds away to the fence in no time. SA 208/3 in 65 overs
19.01 IST: FIFTY! FOUR! Nicely driven. Tossed up ball outside off, Amla gets to the pitch of the ball and drives it through covers. Destination boundary line for the ball there. It is not just another boundary. That brings up Amla's 50, his 36th in the longest format. This would help him shake off his poor run of form. Well played, Hash!  SA 203/2 in 64 overs
18.56 IST: Skipper Faf du Plessis is the next batter in. This isn't the happiest hunting ground for him and the conditions seem good for him to change the record for good.
18.55 IST: OUT! Finally, Ishant Sharma is rewarded. He was bowling probing lines today without much success. Now he gets the fruit for his efforts. Sometimes, you bowl peaches and yet fail to get the desired wicket and on other days, your not-so-good balls reward you. It has been the latter with Ishant here. He delivers this on a length well outside off, AB de Villiers could have well watched it sail through to Patel. But he opts to slap it away and pays the price. The ball takes the inside edge and shatters the stumps and as well as the batsman's hopes. This is Ishant's 350th international wicket. Yet another stand for the Proteas that remains unconverted to a big one. SA 199/3 in 62.4 overs
Kepler Wessels reckons there may be reverse swing on offer. He observes that Ishant Sharma is seen holding the ball in his left hand as he runs into bowl.
18.49 IST: Fifty-run stand completed between Amla and de Villiers. Third such stand for as many wickets for South Africa. Amla gets the milestone by pushing it through covers. SA 198/2 in 61.4 overs
18.48 IST: FOUR! Nice use of the feet and good timing on that. Ashwin floats it around off and middle, Amla gets down the track, takes it on the full and pushes it back down the ground. No chance for mid off and it is a boundary that takes Amla to 47. SA 197/2 in 61.1 overs
18.47 IST: Ouch! Poor Patel. Bumrah dishes out a juicy full toss outside off that catches even de Villiers by surprise. He looks to drive but misses. Parthiv gets a bad bounce as the ball climbs a bit more and hits him on the chest. It is painful indeed.
18.44 IST: Another one in line of the stumps, bunted onto the ground by Amla. Just a single from the over. SA 193/2 in 60 overs
18.41 IST: FOUR! Clever yet streaky. Bumrah lands it on a length outside off, Amla hangs back and looks to guide it to the third man. But he ends up getting a thick outside edge through the slip cordon. Not the desired way but the desired result. SA 192/2 in 59 overs
18.36 IST: FOUR! Short, wide, punished. Amla gets a nice snack to go with the tea break. Bumrah bowls a nothing ball, Amla just stands tall and cracks it through cover-point for a boundary. Not a soul moved. SA 186/2  in 57 overs
18.32 IST: We are back for what should be a longish session. The track seems to be good for more runs and there's hardly any misbehavior there. Ashwin is extracting some spin and we can gear ourselves up to watch the tweaker bowl for long. Hashim Amla and AB de Villiers are out in the middle now. Jasprit Bumrah will kick off the proceedings with the ball.
... Day 1, Session 3 ...
18.23 IST: What do we have in store for the final passage of play for the day? For starters, we should be having 34 overs to play. Whether that span will see an Indian fightback or a Protean surge, we'll wait and watch. Do join us shortly.
18.20 IST: Talking about missed chances, India weren't far either. They missed a couple of chances, potentially costly ones. Panyda and Patel were the generous folks who granted a couple of lives to Amla. Although Pandya's one was one that sticks, the gloveman's miss was a one that shouldn't have been. Amla was on 14 and 30 respectively when he made those offerings. Now he is slowly ticking on 35.
18.15 IST: If the first session was a goods train, this one was an express train. Runs have come at over 3.50 an over in this period and thus, in spite of the couple of wickets taken, South Africa will savour the tea. It was a session of missed opportunities for them. They missed out having a 100-run opening stand by just 15 runs and then Markram missed out on his ton by a mere 6 runs.
18.12 IST: Back of a length ball outside off from Bumrah, de Villiers spots that and lets it be. That's TEA, DAY 1! SA 182/2 in 56 overs
18.08 IST:  Four leg byes! No, not the ideal line from Pandya this. He strays on the pads and delivers it on a length. De Villiers just misses the clip and gets it off his pads. The ball races away fine to the fence. 100 runs in this session now.
18.07 IST: How many times have we seen this today? A batter almost chopping it on. Bumrah lands it on a length outside off, angling into AB. He looks to defend but gets an inside edge. The ball bounces just over the stumps. Elgar was also a beneficiary of such happenings earlier in the morning. SA 175/2 in 55 overs
18.03 IST: Length ball outside off from Pandya, Amla punches it through point for a single. 2 runs from the over.  SA 174/2
17.59 IST: Hardik Pandya to have a burst before Tea. The partial reason could be that Ashwin had bowled 17 overs non-stop from this end. Looking at the track and the conditions, India would want their premier spinner to bowl more post the break.
17.56 IST: Angling into the batter on a length, de Villiers misses the flick and gets rapped on the knee-roll. The ball rolls towards the keeper. Just a single from the over. SA 172/2 in 53 overs
17.55 IST: Floated full around middle, Amla bunted with a straight bat. 5 runs from the over. SA 171/2 in 52 overs
17.51 IST: FOUR! Never a quiet moment when AB's on show! Ashwin tosses it up outside off, de Villers gets out the reverse sweep. Makes a good connection and the ball races away to the third man fence. SA 170/2 in 51.1 overs
17.46 IST: DROPPED! Definitely but not an easy one for sure. Sharma angles this into Amla, he looks to collect easy runs by tickling that away. But he ends up nicking it and Patel messes the chance that came his way. He goes at it with both hands and fails to cling on to that. Costly, very costly. Gavaskar on air rightly reckons that Amla isn't one you should be given another life. What's more, a run results as well.
17.44 IST: FOUR!  Ever seen a wonderful wristy stroke? Watch this. Ashwin flights this one around off, Amla gets half-forward and just whips it in front of square on the leg side. Shouts of 'catch it' can be heard. No one to do that and the ball races away to the fence. He moves to 29 now. SA 164/2
17.37 IST: FOUR! No, no, no, shouts Kohli from first slip as he sees Ashwin bowls this a touch short. Allows de Villiers enough time to go back and cut it through point to open his account with a boundary.
17.35 IST: Mr. 360, AB de Villiers strides out to the middle next. He played a couple of wonderful knocks in the previous game to take it away from the opposition. Let's see how he fares today.
17.34 IST: WICKET! Ashwin removes Markram for 94 runs. SA 148/2 in 47.3 overs. Aiden Markram has to depart on 94. He was dismissed on his debut innings on 97 and here is another one. Ashwin floates this outside off, Markram looks to defend, thinking the ball to spin in. But the ball goes straight on and takes a thin outside edge. Parthiv Patel takes that and begins celebrating and so do the Indians. The umpire agrees. However, Markram feels he hasn't nicked it, like all the batters in the 90s feel. Snicko though, brings his worst fears true as it shows a spike as the ball passes the bat. That's it for the opener and India have broken the 63-run stand that looked promising.
17.30 IST: Well.... Shami is seen walking off now.
17.29 IST: Shami doesn't look fit! What happened, Shami? Heat getting on to him? After he bowled the previous one, he got down on his haunches, clenching his head. It is very hot out there indeed, say the on-air commentators.
17.18 IST: There is a deep point in place. However, that does not please Michael Holding one bit. He would love to see a 5-4 off side field but not such a defensive one.
17.17 IST: FOUR! TOP SHOT! Occasionally Ashwin slips a not-so-good ball and the Proteas are too good to miss out. This is flatter and shorter outside off, Markram is too good to miss out. He slaps it powerfully through covers, beating the man in the deep. Collects a boundary and moves to 92. SA 144/1 in 43.2 overs. 
17.12 IST: Time for drinks. South Africa despite losing Elgar early have continued piling on the runs. The Indians got off to the perfect start after the break as they got rid of Elgar early but they could not capitalise as the pair of Amla and Markam have stitched a 50-run stand.
17.08 IST: FOUR! What a shot! Markram is utilising his height now. Shami has been very poor today! He bangs a short ball outside off, Markram jumps and cuts it over cover-point for a boundary. He is a tall lad and he making great use of his height here.
16.58 IST: Ashwin seems in trouble as both the batsmen are hitting hard at the moment. FOUR! these two might have decided to take on Ashwin here. He comes down the track and lofts it over mid on for a boundary. SA 125/1 in 39.1 overs.
16.51 IST: FOUR! Markram joins in. A rare bad ball by Ashwin and Markram takes full toll of it. Ashwin bowls this one very full on middle, Markram makes it into a low full toss and sweeps it through square leg for a boundary.
16.48 IST: FOUR! Amla bangs it in mid-on. This shot indicates that he is back in form. Bumrah bowls it on the pads, Amla works it past mid on where Ashwin puts in a lazy effort to stop the ball. It beats his dive and races to the fence. Jonty Rhodes on air mentions he had put in that dive, just to impress his captain.
16.45 IST: FOUR! Hashim Amla hits it clean. TOP SHOT! This might well be the release shot for Hashim Amla. Ashwin bowls it short outside off, Amla pushes it through covers for a boundary. The 100 is also up for South Africa.  SA 101/1 in 35.1 overs.
16.39 IST: Bumrah is back on the attack.
16.32 IST: FOUR! Poor by Ishant! He bowls it on the pads, a gift for Markram who flicks it down to fine leg to fetch himself a boundary.  SA 91/1
16.24 IST: Hashim Amla walks out to the middle. 
WICKET | Elgar picks out silly point and departs for 31 off the bowling of Ashwin. SA 85/1 #SAvIND #FreedomSeries #ProteaFire pic.twitter.com/DL0RttM18n

— Cricket South Africa (@OfficialCSA) January 13, 2018
16.23 IST: WICKET! CAUGHT! What a catch!Elgar would consider himself very unfortunate here. He uses his feet as he tries to get to the pitch of the ball. Ashwin sees it and shortens his length on off. Elgar adjusts and pushes it uppishly through the off side. The ball goes onto hit Vijay on his chest at short leg. he does well to keep his eyes on the ball and grabs it on the second attempt. A much-needed wicket here for India and it is Ashwin who provides it. though a lot of credit should be given to Vijay. The Indians are ecstaic and Dean walks back in disbelief. SA 85/1 in 29.3 overs.  
16.18 IST: Michael Holding on air mentions Ashwin is getting the ball to turn so he should be pitching it outside the off stump and then get it to turn into the batsman. He instead is bowling it too straight and hence the ball is turning down the leg side.
16.14 IST: Ishant Sharma will bowl from the other end.
16.13 IST: FOUR! Up and over! Elgar makes good use of his feet, gets to the pitch of the ball and lofts it over the bowler's head for a boundary.
16.11 IST: We are back for the second session. Elgar and Markram will resume their innings. Ravichandran Ashwin will open the bowling for India. He has got purchase out of the surface and he will look to provide the breakthrough. Can he do it? Let's see.
15.35 IST: 
Lunch Break | SA 78/0
Markram 51
Elgar 26 #ProteaFire #SAvIND #FreedomSeries pic.twitter.com/O294iP30G8

— Cricket South Africa (@OfficialCSA) January 13, 2018
15.32 IST: LUNCH! SA score 78/0 at lunch against IND in Centurion, with Markram (51*) and Elgar (26*) fighting for the hosts.
15.23 IST: FOUR! A magnificent from Markram this time. Markram is one shot of his half ton! Back-to-back boundaries for him. Pandya bangs it short at 136 kph. Markram gets into the position and pulls it with disdain through mid-wicket for a boundary.
24.4
15.22 IST: FOUR! Markram has been driving well since morning and he has done it to perfection again! Pandya bowls it full on off, Markram leans into it and drives it past the diving mid off fielder for a boundary. He moves onto 45. SA 67/0
15.18 IST: Hardik Pandya is back into the attack.
15.16 IST: REVIEW! An appeal for a caught behind against Elgar has been given not out. Kohli is pretty sure about it and he reviews it. Ashwin though is not so confident.
15.12 IST: Bumrah overpitches on pad and gets a FOUR by Markram. SA 59/0 Errs in line and bowls it on the pads, Markram is too good to miss out there. He flicks it through backward square leg and the ball races away. He moves on to 39.
15.10 IST: Ravichandran Ashwin to Dean Elgar, no run. Defended off the front foot by the batsman presenting the full face of the bat.  Spinner Ravichandran Ashwin starts with a maiden over. SA 55/0 in 22 overs.
15.06 IST: FOUR! Markram shows off his confidence. Bad ball and dispatched! Bumrah has not got it right here. He bowls it short outside off, offers a lot of widths. Markram cashes in on it as he cuts it through covers for a boundary.
15.05 IST: FOUR! Beautiful shot! Bumrah lands it on a length but errs in line as he bowls it on the pads. Markram uses his wrists and flicks it through mid-wicket to fetch himself a boundary.
15.04 IST: In the air...but it has been misjudged! Poor from Vijay, India needed him to take this as they are in a desperate need of a wicket. Bumrah bangs it short on middle, Elgar takes on the challenge of pulling, he connects well but fails to keep it down. The ball flies towards Murali at deep square leg who comes running in and then fails to recover, he stretches his hand out in an attempt to catch it but it goes over him and once bounce over the fence. FOUR! SA 46/0
15.00 IST: Jasprit Bumrah is back into the attack.
14.58 IST: Spin for the first time today! Ravichandran Ashwin is into the attack.
14.54 IST: Ishant Sharma to Dean Elgar, Changes his angle and goes over the wicket but bowls it way outside off. The batsman need not play at those. Ishant Sharma concludes a maiden over. 18 overs gone, SA 37/0.
14.47 IST: Michael Holding on air mentions this wicket is not as green as the last one and he would have picked Bhuvneshwar Kumar over Jasprit Bumrah as the former could have got more out of the wicket.
14.40 IST: Hardik Pandya to Dean Elgar, no run. Attacks the stumps this time, he also gets it to nip away after pitching. Elgar tries to defend but gets an outside edge towards covers. A good over by Pandya, a maiden. SA 36/0 in 15 overs.
14.32 IST: Time for the first drinks break in the game. The Protea openers have done well to negotiate this first hour. No real help for the seamers and that Shami was indisciplined didn't help the Indians. Bumrah bowled well but Ishant was the more probing of the seamers on show so far. Can he draw first blood soon? Hope the break rejuvenates them. Markram has looked assured in his stay out there while Elgar has been a touch tentative. How long will they carry on?
14.28 IST: Hardik Pandya to Aiden Markram, no run. Another ball on a length, blocked from the crease. Pandya begins with a maiden. SA 35/0 in 13 overs.
14.24 IST: Hardik Pandya into the attack now. He looked impressive in the first Test and with India desperate for a wicket, Pandya would look to make his mark right away.
14.20 IST: Sanjay Manjrekar analyses Markram's batting. In the first game, Aiden was playing with an angled bat and hence was edging some deliveries to the slip cordon. Here, he is consciously trying to play as well as leave with a straight bat. Nice to see the rectification.
14.16 IST: FOUR! Another glorious shot, not great bowling though. Shami overpitches this outside off, Markram gets ahead and drives it nicely through the vacant cover region for a boundary.
14.14 IST: FOUR! A Gateway of India in Cape Town? Let me explain. This is full and outside off, a hint of movement away from the batter. Markram gets his stride forward and drives it through covers. Bumrah is stationed there and puts in a lousy effort and lets the ball go through his legs. The ball's next destination is the boundary fence. SA 25/0 via India's misfielding. 
14.13 IST: Change of ends for Mohammed Shami.
14.12 IST: Ishant Sharma to Dean Elgar, no run. Angled away outside off, Dean lets it be.  After 10 overs, SA are 21/0.
14.05 IST: Nice point. Seeing Elgar beaten all ends up on the previous ball, Gavaskar opines that he would have loved Ishant to have taken the new ball straightaway. Although the ball is 7-over-old now, meaning not too old, a newer cherry would have behaved differently out of Sharma's hand, he reckons.
14.04 IST: Ishant Sharma is introduced into the attack. Technically he is the most experienced bowler in the side yet he isn't a regular starter. This is his comeback game and he would look to extract some bounce from the surface.
14.03 IST: 
13.58 IST: Jasprit Bumrah to Aiden Markram, no run. Brilliant delivery to end the over. On a length around off, it comes back in viciously. Cuts Markram into half and flies to Patel who has to dive well to his left to pouch that.  SA 15/0 in 7 overs. 
13.50 IST: As the camera rolls towards Hashim Amla in the dressing room, Sunil Gavaskar on air says that he is as cool as an iceberg.
13.45 IST: FOUR! Another one, this time to deep mid-wicket. Shami overcorrects, pays the price. In a bid to bowl straighter, he strays on the pads. Markram keeps his balance and flicks it nonchalantly through mid-wicket. Ishant gives it a chase from mid on but has no chance of cutting that off. A good fast outfield this.
13.43 IST: FOUR! Markram nails it perfectly square of the wicket. How beautifully timed is this one! Shami hurls it on a length outside off, Markram stands tall and punches it through covers. Plenty of real estate there and the ball speeds away to the fence. That's the first boundary of the game and Aiden's blade gets it.
13.38 IST: From behind the stumps! When Parthiv Patel last played a Test match outside Asia (at Sydney Cricket Ground in 2004), none of the current players in Indian squad had made their debut.
13.34 IST: Mohammed Shami to run in from the other end.
13.33 IST: SA 0/0 after first over. Jasprit Bumrah to Dean Elgar, no run. A touch fuller this one, Elgar comes half-forward and defends it. A maiden to begin for Bumrah.
13.32 IST: Short leg in place.
13.30 IST: Jasprit Bumrah starts for India; Dean Elgar and Aiden Markram are at the crease. Elgar is on strike .
13.20 IST: Both the sides line up for the national anthems.
13.15 IST: The Indian skipper, Virat Kohli, would have liked to bat first as well. Is surprised to see a very dry surface on offer. Aims to extract confidence from their bowling performance from the first game. Reckons that they would look to extract whatever is on offer in the initial hour. Mentions that they have one forced change in Parthiv Patel, who comes in for Wriddhiman Saha, who has an hamstring niggle and the team doesn't want to risk the same. Adds further that KL Rahul comes in for Shikhar Dhawan and Bhuvneshwar Kumar misses out as Ishant Sharma comes in due to the extra bounce that he can extract.
13.10 IST: Faf du Plessis, the South African skipper, reasons about his decision, that the history of the ground says that it is slow on Day 1 and the cracks are expected later. States that spin doesn't play a massive part here. Reckons that they expect India to come back hard at them as they are a quality opposition. Looks to improve on the performance in the first game. Announces that Lungi Ngidi makes his Test debut and that's the only change for them, which is a forced one as Dale Steyn is out injured.
13.08 IST: 
Toss update: South Africa have won the toss and elected to bat first in the 2nd Test. Three changes for #TeamIndia. KL Rahul, Ishant Sharma and Parthiv Patel are in the Playing XI #SAvIND #FreedomSeries pic.twitter.com/kbj1louaSU

— BCCI (@BCCI) January 13, 2018
India Playing XI: Murali Vijay, Lokesh Rahul, Cheteshwar Pujara, Virat Kohli(c), Rohit Sharma, Parthiv Patel(w), Hardik Pandya, Ravichandran Ashwin, Mohammed Shami, Jasprit Bumrah, Ishant Sharma
South Africa Playing XI: Dean Elgar, Aiden Markram, Hashim Amla, AB de Villiers, Faf du Plessis(c), Quinton de Kock(w), Vernon Philander, Keshav Maharaj, Kagiso Rabada, Lungisani Ngidi, Morne Morkel
13.05 IST: TEAM NEWS: For India, Kl Rahul replaces opener Shikhar Dhawan, Ishant Sharma comes in place of pacer Bhuvneshwar Kumar and Parthiv Patel replaces wicket-keeper Wriddhiman Saha. South Africa decides to play uncapped Lungi Ngidi.
13.00 IST: South Africa win toss, opt to bat first against India.
12.55 IST: Team India huddle up ahead of the big match.
All set for the 2nd Test. #TeamIndia #SAvsIND pic.twitter.com/yw4Op5pC6q

— BCCI (@BCCI) January 13, 2018
12.48 IST: Cricket South Africa believes, it will be a "perfect day for a game of Cricket."
Perfect day for a game of Cricket. It's the 2nd Sunfoil Test between #SAvIND at SuperSport Park in Centurion. #ProteaFire #FreedomSeries pic.twitter.com/rjAH58W7Xn

— Cricket South Africa (@OfficialCSA) January 13, 2018
12.45 IST: Meanwhile, former India captain Sunil Gavaskar has an advice for Kohli & Co
Read: Indian batsmen need to shake off lethargy if they dream to win series in South Africa, says Sunil Gavaskar
After receiving much criticism for a batting collapse that eventually resulted in a 72-run defeat for India in the first Test at Cape Town, the batsmen aim to ensure it doesn't happen in the second Test. (WATCH: Indian batsmen go through intense batting drills)
Belting out here in Centurion and #TeamIndia making full use of the conditions on the eve of the 2nd Test. Prep in full swing #SAvIND pic.twitter.com/opTTCkuVmq

— BCCI (@BCCI) January 12, 2018
Brief Preview: Trailing the three-match Test series by 1-0, Virat Kohli-led India will aim for an equaliser when the visitors take on hosts South Africa in the do-or-die second Test, starting January 13 in Centurion.India's record of nine consecutive series victories will be on the line from Saturday after the hosts took a 1-0 lead in the three-match series by registering a 72-run win in the first Test in Cape Town.(Read full preview here)
Teams:
India: Shikhar Dhawan, Murali Vijay, Cheteshwar Pujara, Virat Kohli (C), Rohit Sharma, Wriddhiman Saha (wk), Hardik Pandya, Ravichandran Ashwin, Bhuvneshwar Kumar, Mohammed Shami, Jasprit Bumrah, Lokesh Rahul, Ajinkya Rahane, Ravindra Jadeja, Ishant Sharma, Umesh Yadav, Parthiv Patel 
South Africa: Dean Elgar, Aiden Markram, Hashim Amla, AB de Villiers, Faf du Plessis (C), Quinton de Kock (wk), Vernon Philander, Keshav Maharaj, Kagiso Rabada, Morne Morkel, Chris Morris, Temba Bavuma, Theunis de Bruyn, Andile Phehlukwayo, Duanne Olivier, Lungisani Ngidi