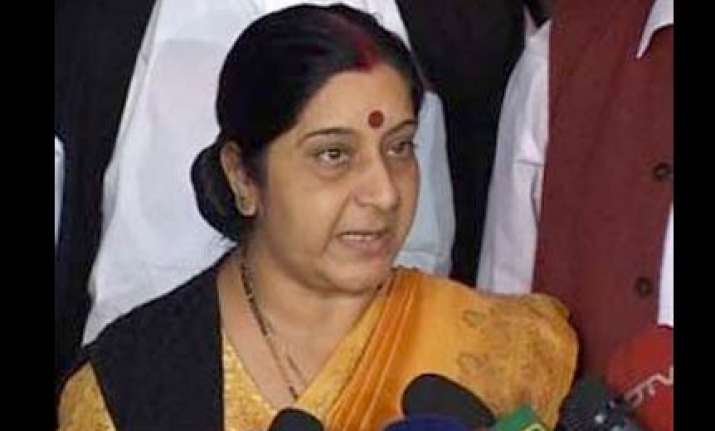 New Delhi :  The issue of Sohrabuddin fake encounter in Gujarat was the focus of attention for sometime during a debate in the Lok Sabha on Wednesday on the Bhopal gas tragedy, with BJP and Congress seeking to score points over each other.
Leader of the Opposition Sushma Swaraj, who initiated the discussion, alleged that the CBI had arrested former Gujarat minister Amit Shah for the false encounter of Sohrabuddin, who had been a convict of TADA and was found in possession of 28 AK-47 and two AK-56 rifles.
On the other hand, Union Carbide chief Warren Anderson was given a "royal farewell" by the Rajiv Gandhi government in spite of being allegedly guilty for the worst industrial disaster in which 15,000 people were killed.
Amid protests from Congress members, she said her party had already sought a discussion on misuse of CBI, which works under the directions of its political masters.
She asked sarcastically why Congress was so much in love with foreigners as it had also allegedly helped Ottavio Quattrocchi, prime accused in the Bofors pay off case.
Seeking to turn the tables on Swaraj on the Sohrabuddin issue, Manish Tewari (Cong) said the reference to the encounter killing was a clear indication of BJP's "guilty conscience" in the case.
"I am sad that after 25 years instead of debating the Bhopal gas tragedy, the Leader of the Opposition chose to discuss the Sohrabuddin case. It is only a clear indication of the BJP's guilty conscience in the case," Tewari said.
He said Sohrabuddin was a terrorist only in the eyes of the BJP and its government in Gujarat and said the BJP-RSS political agenda would not sell. PTI