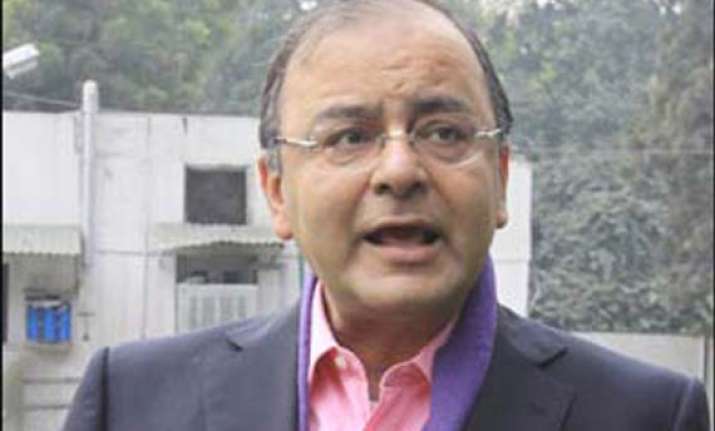 New Delhi: Leader of Opposition in Rajya Sabha Arun Jaitley Thursday accused the UPA government of spreading "misinformation" that BJP had consented to support move to prevent immediate disqualification of convicted MPs, saying it had never favoured such a course.
In an article posted on the Bharatiya Janata Party's website, Jaitley said he was making the "facts known publicly since a campaign of disinformation has been launched by a beleaguered Government."
He said at the all-party meeting Aug 13 called by the United Progressive Alliance (UPA) government following the apex court decision, various proposals on the issue of a convicted legislator's right to continue his membership were discussed.
"At the end of the discussion, the impression conveyed to us was that the government would finalise the proposal and refer the matter to a Standing Committee for formulation of opinion," he said.
He contended the government has tried to convey an impression that the BJP was in full support of the legislation which was proposed.
"In fact, only various options were discussed. I am constrained to set the record straight on account of his disinformation being spread by the government," he said.
Jaitley said he was told by Law Minister Kapil Sibal that the government was contemplating a constitutional amendment and expressed his apprehensions.
He said Sibal later met him and Sushma Swaraj, Leader of Opposition in the Lok Sabha, the same day, for discussions and and the BJP leaders categorically said they were opposed to an amendment.
Parliamentary Affairs Minister
Kamal Nath
and some other Congress leaders had said earlier that the BJP was on board on the issue.
The cabinet Wednesday decided to withdraw the controversial ordinance and the bill reversing the apex court decision after strong opposition from Congress vice president
Rahul Gandhi
.