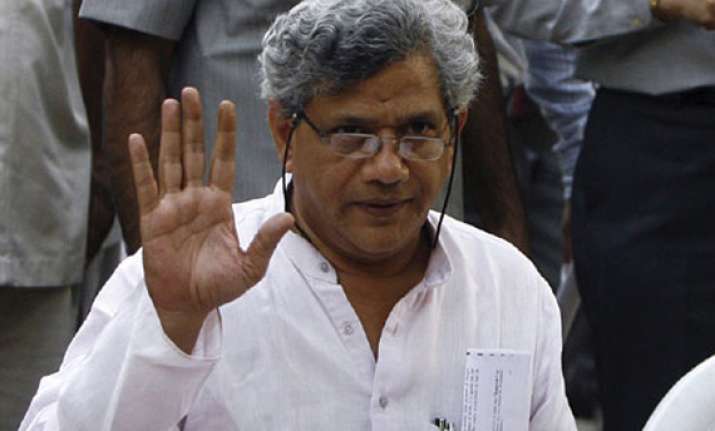 Chennai: Hitting out at the Congress-led UPA government on the food bill, CPI(M) leader Sitaram Yechury yesterday charged it with "creating an illusion" as if its enactment will ensure food security and warned that such "political gimmick" with an eye on elections will not work.
Pointing out that the then President Prathibha Patil had told the Parliament in 2009 that the government will implement the programme in its first 100 days of existence, he asked, "Why are they doing it at the fag end (of UPA II's term)?"
Yechury said the Congress wants to "make it an election issue by creating an illusion that it will create a food security. But it will not".
At a public meeting organised by Tamil Nadu unit of the party-affiliated Student Federation of India (SFI), he said the government was now accusing the opposition of stalling and disrupting Parliament, thus unable to enact the Food Security Bill.
"We must ask them - who stopped you from tabling the bill earlier?" Yechury said.
The "outright political opportunism" behind the initiative should be "exposed and defeated" he said, adding that the party had moved "concrete amendments", including ensuring that Central allocation of food grains did not decrease in the event of its implementation.
States like Tamil Nadu, where rice was being provided for free of cost under the universal PDS, were likely to be affected as the central quota could come down, even straining the purses of the state exchequer by way of increased food subsidy, he said.
"This type of political gimmick will not work. People will see through such political opportunism that plays with their lives," the Left leader said.
Yechury also slammed the government on other key issues dogging UPA including the coal block allocation, saying the Left "has made it clear it will not allow loot" of country's resources.
He wondered how any government can say that "relevant and most important files" were missing. He also criticised the government on the current economic crisis, saying it was unable to check rising prices of essential commodities, even as rupee was falling against US dollar.
"This only indicates that the Indian economy is in bad shape. Prime Minister Manmohan Singh who started this process (of liberalisation) 22 years back has brought India back to square one. But the present situation is worse," he said.
Yechury said Congress and BJP were no different on the score of economy and accused them of being the "biggest match-fixers" as both were in agreement on issues like foreign investment in pension, insurance and defence sectors.
He argued people should favour an alternative involving Left and secular forces.