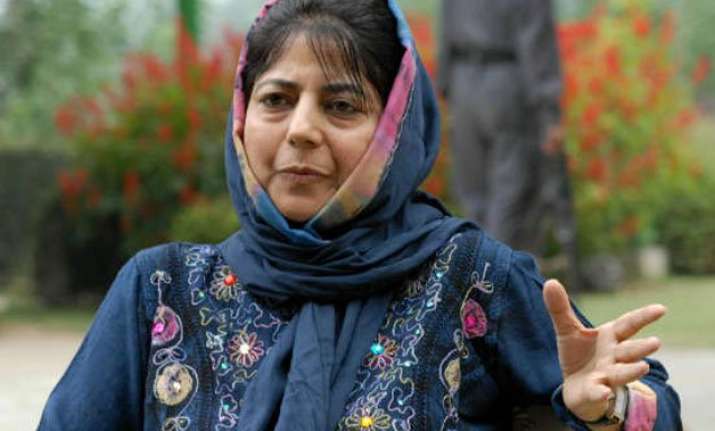 Srinagar: Even after the end of mourning period, there were no indications about how soon a new government would be formed in Jammu and Kashmir, with PDP chief Mehbooba Mufti maintaining suspense and BJP saying it will wait for the ally to make the first move amid its wish to see the existing power-sharing arrangement to continue.
Mehbooba, who is tipped to be the next Chief Minister succeeding her late father Mufti Mohammad Sayeed, has kept the suspense on over when she will start steps to form the government in the state where Governor's rule was imposed on last Saturday.
"So far nothing has changed. Any further development on the formation of government would depend on how soon the party president is able to hold consultations and seek advice on the issue," senior PDP leader Naeem Akhtar told PTI when asked whether any step has been initiated for forming the next government.
Mehbooba, who resumed work as PDP president last evening at the end of four-day mourning period for Sayeed, is yet to call the Legislature party meeting as part for government formation efforts.
"At the farewell function to the personal staff of Sayeed, the party legislators, who were also present, have thrown their weight behind the president on the future course of action. We are now waiting for her decision," the leader said.
Although BJP, the coalition partner of PDP in the government headed by Sayeed, has not given in writing its support to Mehbooba as the next chief minister yet, several party leaders including former Deputy Chief Minister Nirmal Singh have expressed confidence that the alliance will continue for the rest of the term of the current assembly.
BJP general secretary Ram Madhav made it clear in Delhi that his party wanted the existing power-sharing arrangement to continue but said PDP has to take the first call.
He also rejected as "mere speculation" the reports that both parties have put up fresh conditions, insisting that no political discussion had started between them as Mehbooba was in deep mourning.
Asked about the uncertainty, he said, "PDP can answer this question. They have to think about the process they have to complete from their side. It is for PDP to take the first call from their side. They have to decide about their leader and come forward. I hope they take a decision soon so that this kind of uncertainty ends."