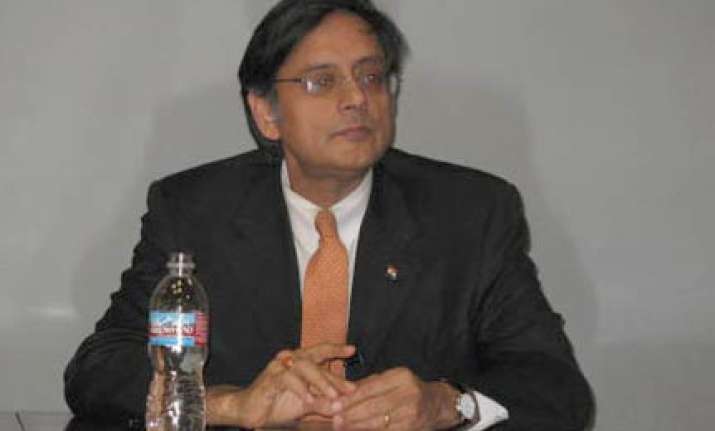 In an hour-long meeting held on Tuesday evening, All India Congress Committee general secretary Janardan Dwivedi reportedly warned Minister of State for External Affairs Shashi Tharoor  that his various controversial statements were proving to be an embarrassment for both the party and the government.
Sources in the party say that Tharoor defended himself on the use of the word 'interlocutor' in the context of India seeking Saudi Arabia's help over the issue of terrorism emanating from Pakistani soil. He is also learnt to have assured the senior Congress leader and in-charge of the party's media department that he would be much more circumspect in the future and not make such statements. 
The meeting between the two comes on the eve of the resumption of Parliament on Wednesday, where the Opposition is expected to make Tharoor's statement into a major policy shift issue and demand an explanation from the government.  
It is likely that Tharoor may be called upon to clarify his stance since as a representative of the external affairs ministry, when he makes statements on foreign policy issues, they are interpreted as the government's official line. 
According to Congress sources, Tharoor "will not speak out of turn now", but it may be recalled that the former United Nations diplomat had earlier assured party leaders that he would stay within line, but continues to make statements or post tweets on policy issues. 
For the moment, Congress is hopeful that the latest controversy created by Tharoor will die a natural death. Speaking to journalists after the meeting, Dwivedi claimed that the meeting between them had been fixed a week ago, and clarified that the government never asked Saudi Arabia to become a mediator between India and Pakistan. 
He added that the explanation by Prime Minister Manmohan Singh that there had been no changes in India's policy towards Pakistan, should settle the matter. Dwivedi reiterated that Tharoor's stance on the issue was the same as that of the government and the Congress. 
"After the explanation given by Tharoor and the prime minister, there is no scope for any further confusion," said Dwivedi.  
But despite his words of assurance, sources say that the party has taken very serious note of Tharoor's remarks this time.  
Both Home Minister P Chidambaram and Dwivedi had earlier warned the minister of state not to tweet on policy issues.