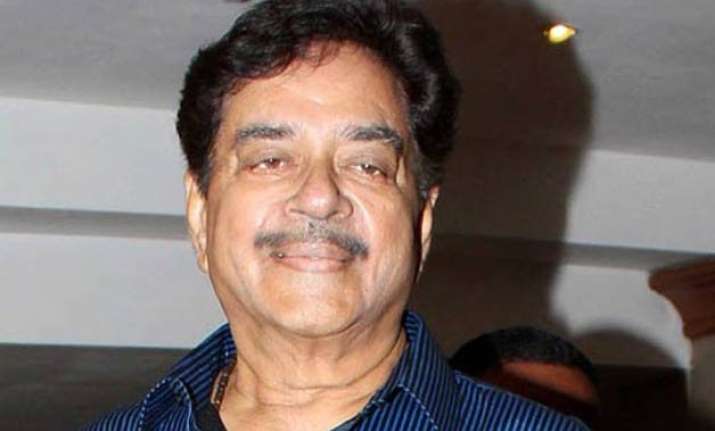 Patna:  Actor-turned-BJP MP Shatrughan Sinha and Bihar Chief Minister Nitish Kumar today denied that their recent meetings were in context of the former's wife entering into the fray in the Assembly poll on a JD(U) ticket.
"Shatrughan Sinha is a pride of Bihar and has been a high class actor. We meet out of personal relationship and no politics is discussed," Chief Minister Nitish Kumar said.
A section of newspapers suggested that the 'Bihari Babu' has called on the senior JD(U) leader to pitch for the candidature of his wife Poonam Sinha on JD(U) ticket in the coming Assembly poll.
"Sinha is popularly known here as 'Bihari Babu' and he has been putting his views on development of Bihar frankly," Kumar told reporters.
"Its purely his choice, in whichever party he wishes to be. Our meeting and relations would not be affected by it," the CM said emerging from the Legislative Council.
The meeting between Sinha and Kumar, hours after Prime Minister Narendra Modi left Bihar after a day-long tour to the state on July 25, had created a controversy, putting the saffron party in an embarrassing situation.
Even before the dust has settled in, the two met again at Patna airport on July 29.
After meeting Kumar, Sinha swore allegiance to BJP but maintained nobody knows what future has in store for him.
The meetings gave rise to speculation if a sulking Sinha was planning to crossover to JD(U). But he himself discarded it saying "there is no plan to leave BJP as of now."
On today's assertions of the Bihar Chief Minister on him, Sinha told PTI over phone from Mumbai that he was touched by Kumar's praise.
Sinha denied reports of his wife contesting the Assembly election from JD(U).
"If it was the case I could have talked to Kumar over telephone instead of going to his home. Our friendship and affection for each other is beyond such things," the two-term BJP Lok Sabha member from Patna Sahib said.
The BJP leader said his wife has been active in his Parliamentary election and also in social work.
"If she desires and decides to fight election we will make it known publicly. BJP is my first party and perhaps would be the last party," he said.
"Politics is an art of flexibility," he added.