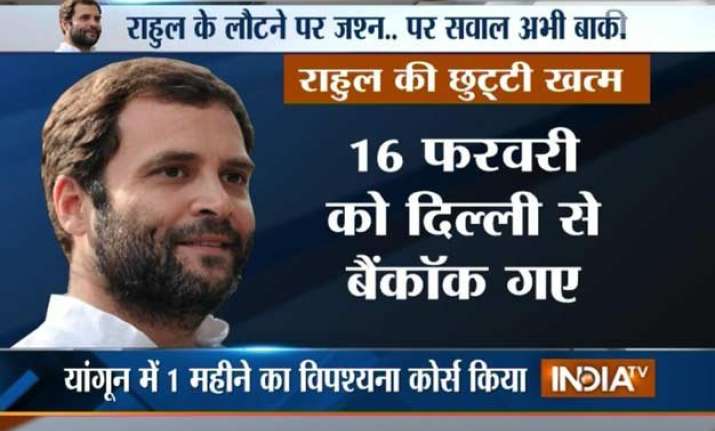 New Delhi: Rahul Gandhi today returned home from his 59-day sabbatical period. The 44-year-old leader arrived here at 11.15 AM in a Thai Airways plane from Bangkok, ending months of intense speculation.
Wearing a dark shirt and seated in the back seat of his vehicle, he arrived home escorted by his security personnel. There are rumours doing the round as to where the Congress vice president was during this period. According to reports available Rahul Gandhi has toured a few countries during 59 days.
Read Also: After 59-day sabbatical, Rahul Gandhi finally returns
A ticket of Thai Airways has mentioned the Congress Vice President's flying for Bangkok on 16th of February from New Delhi.It also mentioned that Rahul left for Bangkok at 3.30 from New Delhi.
Rahul Gandhi then went to London from Bangkok. The reports also suggested that Rahul Gandhi went to Italy where he stayed there for a period of three weeks.
Rahul Gandhi stayed in the house of his maternal uncle for a week in Italy. After that he went to the Italian city of Milan .Rahul Gandhi stayed in Milan with the son of Satish Sharma.
Rahul then ended his Europe tour and came back to Mayanmar where he stayed for a period of one month.It is believed that Rahul during his stay in Myanmar undertook  a course on Vipasana , a form of meditation.
Some reports also suggested that Rahul Gandhi also went to the Asian Country Vietnam where he stayed for a few days.