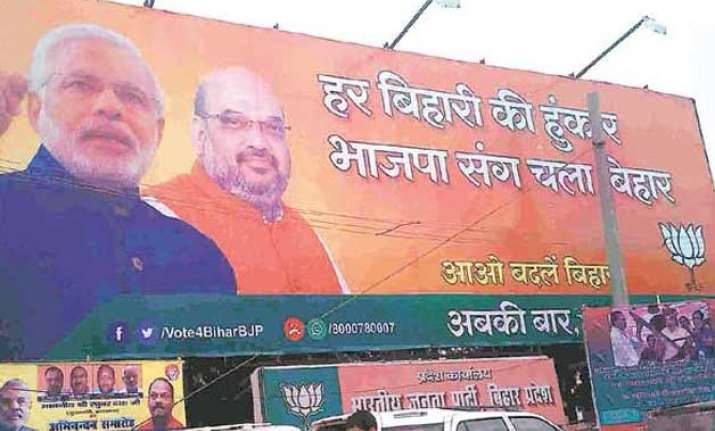 Patna: Helicopter-borne candidates and campaigners circling over villages and cities may have raised the battle pitch in Bihar literally to the skies, but posters and hoardings still rule here as opponents are using the visual campaign to the hilt to trade barbs to woo voters.
'Bahut hua jumlon ka war, phir ek bar Nitish Kumar' (too much of barb-trading, vote for Nitish Kumar once again), screams a hoarding at the busy Exhibition Road intersection here while banners carrying NDA's war cry of 'Badaliye sarkar, badaliye Bihar' (change government, change Bihar) and the image of Modi-Shah duo, have become ubiquitous in the state capital, where poll excitement has reached a crescendo.
Patna, along with five other districts will go to polls on October 28 in the third phase of the high-octave Bihar elections, which will span 50 crucial constituencies. And after salvo-firing at rallies, 'poster posturing' is where real barbs are being traded.
All major locations and landmarks in the city are splashed with political colours, with BJP apparently a decibel up in the poster wars.
Giant hoardings carrying the image of Prime Minister Narendra Modi and BJP chief Amit Shah, beside the party's slogan in the Bihar polls 'Badaliye sarkar, badaliye Bihar' have flooded all parts of the city, from busy traffic intersections to flyovers to railway stations and other transport hubs, and markets, among other places.
And, if Modi-Shah duo are being projected as vote magnets, for the Grand Alliance, JD(U) leader Nitish Kumar has been fronted to win the battle of the eyeballs.
Commuters crossing the old Chirayantand Bridge can see four rows of unipole advertisements by BJP bearing the Modi-Shah duo image and the rallying slogan of 'Badaliye sarkar...' 
Up ahead at the famous and historic Dakbungalow Chouraha, Modi-Shah and Nitish seem to be smiling at people from all sides, with a Chirag Paswan competing for attention from a corner.
Kumar ruled Bihar for last 10 years in alliance with BJP, before snapping ties with the national party, and the publicity campaign centred around him, has been designed to inflict 'caustic barbs' on its opponents.
At the busy Fraser Road, Exhibition Road, among other prominent streets, the banner carrying Kumar's image against a red background reads - 'Jhhanse meyn na aayenge, Nitish ko jitayenge' (Will not be fooled, ensure Nitish's win).
Incidentally, his hoarding sits atop an equal-sized one, carrying the smiling Modi-Shah duo.
Even at the new nearly 3-km-long flyover on the Bailey Road recently inaugurated by Kumar, the NDA versus Grand Alliance or more like Modi-Shah versus Nitish 'battle for Bihar' can be seen being fought on humongous visual scale.