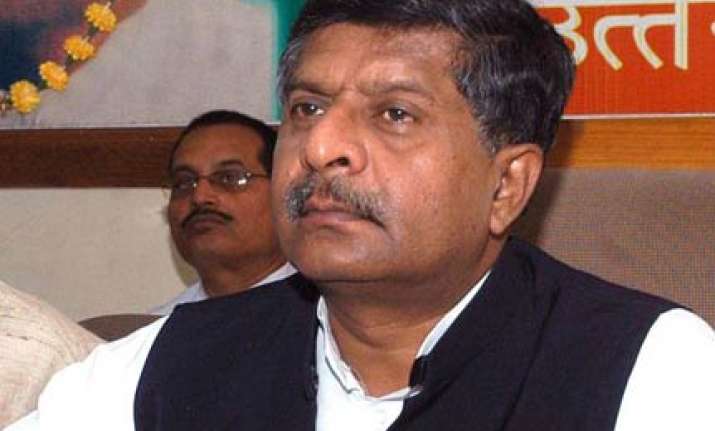 Stepping up pressure on Agriculture Minister Sharad Pawar over the IPL bid row, BJP on Sunday  accused him of "misrepresenting facts" and demanded that he should quit or the Prime Minister should act against him.
"If Pawar fails to quit, Prime Minister should take action against him... Mr Prime Minister you always talk of integrity in governance. We will judge you on the action you take on this matter," BJP spokesperson Ravi Shankar Prasad told reporters in Uttan in Maharashtra after a two-day convention of chief ministers of BJP-ruled states. 
In Hyderabad, party chief Nitin Gadkari too made it clear that Pawar should step down. "BJP spokesperson has already spoken on the issue. That is the party's stand. I don't want to give you a headline by speaking something more on that," he said. 
Accusing Pawar of repeatedly misleading the country and "misrepresenting facts" on his role in IPL bidding, Prasad demanded a Joint Parliamentary Committee probe into the issue. 
Pawar, who is also former BCCI chief, and his MP daughter Supriya Sule have been embroiled in a controversy over the bid for the Pune IPL team after it came to light that the Pawar family had a 16 per cent equity in City Corporation Ltd (CCL), one of the bidders. The Sahara group had clinched the bid. 
Pawar claimed that CCL MD Aniruddha Deshpande bid for the team on his own and the board was against the move even though it allowed him to use the company's name on bid documents. Adding to Pawar's troubles, there were fresh reports that the company bid for the IPL team on its own behalf. 
"It is not that only Pawar is misleading the country but CCL MD Deshpande has also misrepresented the facts and the Company Affairs Ministry must take action," Prasad said. At the Uttan meet, the BJP adopted the twin principles of 'pro-active and pro-people good governance' (P2G2) with the resolve that the party remains steadfast in its commitment to ensure governance with a difference. 
Addressing the concluding session, Leader of Opposition in Lok Sabha Sushma Swaraj asked BJP-ruled states to have a cordial relationship with the opposition. "Our ideologies may be different but we are not enemies of each other. We live in the same country," she said. PTI