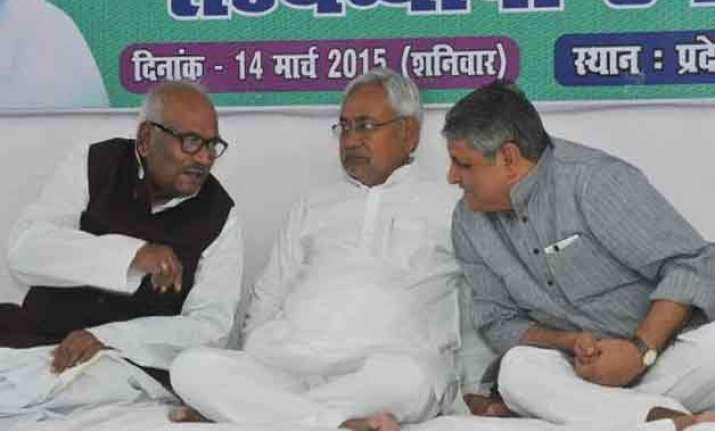 Patna: Bihar Chief Minister Nitish Kumar today ended his 24-hour protest fast against the Centre's land acquisition bill with a vow to carry on a sustained campaign against it.
At 6 AM, he got up from the make-shift bed under a tent and thanked party leaders and workers for their support in making his 24-hour protest fast a success before leaving by an official vehicle for his residence, the state unit JD(U) spokesman Neeraj Kumar said.
Speaking to reporters at the fasting spot, Kumar flayed the land acquisition bill for muzzling the farmers' right on their land and vowed to carry on sustained campaign against the proposed legislation.  Describing the bill as a 'black law', he also vowed not to implement it in Bihar.
The Chief Minister, accompanied by senior ministers and party leaders, had sat for 24 hours at the party office since yesterday morning in protest against the bill.  He sipped lemon water during the fast to keep himself refreshed.
Kumar demanded immediate rollback of the bill whose provisions were, according to him, 'anti-farmer' and 'pro-corporate', as it sought to 'deprive' the landowners from their right to seek judicial remedy in the event of acquisition of their land for development projects.
The Chief Minister had also accused the BJP-led NDA government of bulldozing opposition in pushing through the land bill in Lok Sabha by incorporating some amendments.
Kumar had vowed to launch a nationwide agitation with other political parties against the land acquisition bill.