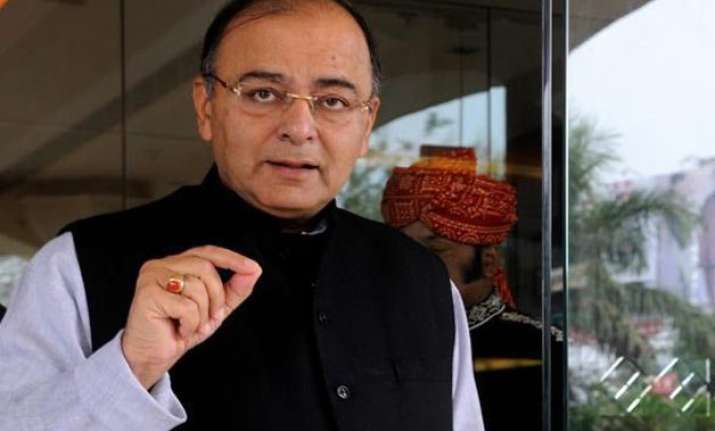 Kolkata: Asserting that India's current growth rate was below its potential, union Finance Minister Arun Jaitley on Friday hit out against those opposing the government's reform measures in parliament, saying they were "hurting India's credibility".
Delivering the inaugural Suresh Neotia lecture here, he also stressed on improving quality of politics and avoiding policy diversion in the form of populism.
"Those who play games in parliament, must eventually realise that they are not only stalling the growth process of the country, but actually hurting India's credibility," said Jaitley.
Speaking about Vision for India 2020, he blamed the successive Congress regimes' "penchant for regulation" and described the period between 1970 and 1990 as the "wasted decades".
Observing that the constituency of those supporting reforms even in the political spectrum was growing, Jaitley said India needed to speak largely in one voice on maintaining the growth momentum so as to give out the right signals that the country is capable of achieving the goals it has set out to achieve.
"So whenever in the next session (of parliament) important legislations - be it direct tax reforms or indirect tax reforms - they come up, of whatever importance they are to growth of the economy, it's important to establish the country's credibility we have to maintain that momentum of growth.
"Those who now try and stall these (reforms), their figure itself is narrowing. Not only is it contracting, to the substance of obstruction, there is lot of public outcry against them," he said.
With India being referred as the "sweet spot" amid the global meltdown, Jaitley asserted the country had the potential to achieve a growth rate in excess of the current 7-7.5 percent and called for improving rural demand and faster growth in manufacturing.
"We are no more satisfied with just being the global sweet spot because we know the current 7-7.5 percent growth rate is still below our potential.
"Therefore we have to move in a direction in which these demands expand and economic activity expands," he said, also adding that to achieve these objectives, the quality of politics has to go up.
"We need to really concentrate on two important factors - one is improving the quality of politics. World's largest democracy can't function unless it has a high level of politics.
"Post 1991, we have seen proliferation of caste based and family based political parties. There are 15 families which now control the balance of power in India," he said.
"We need to avoid policy diversions, populism is a policy diversion. Populism in terms of social issues, religious or caste issues, in terms of abandoning sound economic roadmap, all become a policy diversion," said Jaitley.
Even as he praised the states for their bid to attract investments and harped on the changing the idiom of politics across the country, Jaitley mocked the economic policies of the CPI-M led Left.
"Even states like Jharkhand are revenue surplus. There are two mainstream states in the country which are revenue deficit- West Bengal and Kerala. You don't require rocket science to know what is the commonality between these two states," he said in an obvious reference to the Left which had been in power in these two states.