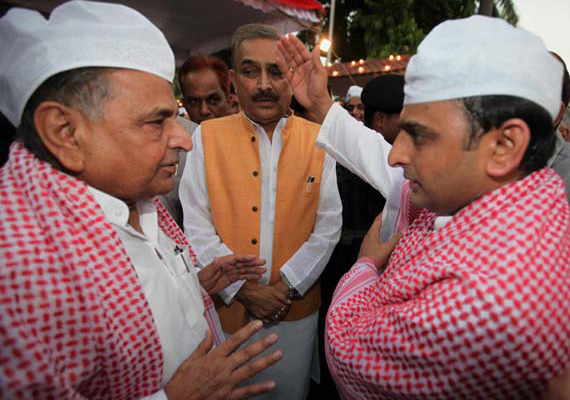 Bangalore, July 29: Samajwadi Party (SP) president Mulayam Singh late Sunday attended an Iftar party in the city with a select gathering, including politicians, celebrities and religious leaders.
"Netaji's (Mulayam) son and Uttar Pradesh Chief Minister Akhilesh Yadav and three lawmakers from the northern state also participated in the evening prayers (Namaz-e-Mughrib) and joined the Iftar dinner at a star hotel," a party spokesman told IANS.
Mulayam Singh and his son are on a two-day visit to Karnataka at the invitation of his party's only lawmaker C.P. Yogeeshwara, who got elected to the state legislative assembly from his home constituency Chennapatna, about 50 km from Bangalore.
Among the state leaders present along with 200 other guests were former Bharatiya Janata Party chief minister B.S. Yeddyurappa, former Congress central minister Jaffer Sharief, former Congress state minister Roshan Baig, Congress lawmaker Ajay Singh, son of former state chief minister N. Dharam Singh and the state unit's Youth Congress president Rizwan Arshad.
At a brief interaction with media after the namaz, Mulayam Singh claimed without the support of his party, no government could be formed at the centre after the next parliamentary elections.
"We are working hard to get as many Lok Sabha seats as possible, as no government can be formed without our party's support at the centre," Mulayam Singh said responding to BJP leader L.K. Advani's claim that the party-led National Democratic Alliance would break all poll records.
Declining to comment on the alleged increasing atrocities against women in his home state, Mulayam Singh sought to play down the issue saying the incidents were being blown out of proportion.
Referring indirectly to the number crimes and rapes in the national capital (New Delhi), Mulayam Singh said people across the country and the world knew where the maximum atrocities against women happen in India.
"The college student who died after her gruesome rape in New Delhi (Dec 16, 2012) was from Uttar Pradesh. Has anyone seen such a heinous crime in Uttar Pradesh. No, because law and order is maintained well in the state. Our government is performing well and better than other governments," Mulayam Singh said.