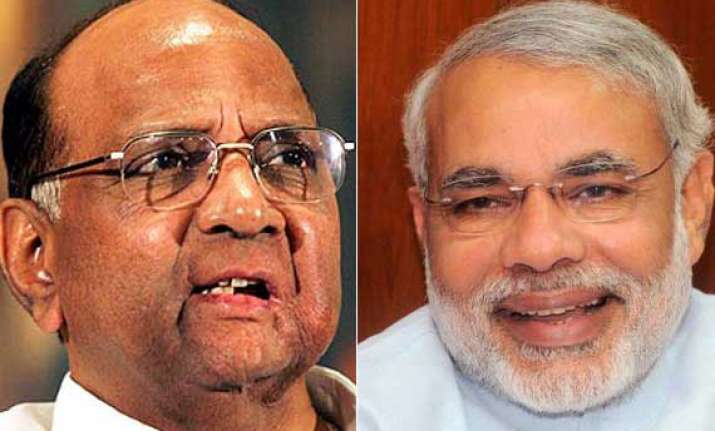 Sindhudurg (Maha): Nationalist Congress Party (NCP) chief Sharad Pawar today criticised BJP's prime ministerial nominee Narendra Modi as an "anxious groom".  "Modi is very eager to become the Prime Minister like a bride groom who wants to get married in a hurry," Pawar said while addressing a rally in favour of Nilesh Rane, son of senior Congress leader Narayan Rane.  Pawar also slammed Modi for boasting the growth figure of Gujarat's GDP and said that his predecessors (from Congress) had handled the economy more efficiently.
"Gujarat's former Congress chief ministers had done better work than Modi. After Modi took over the, reigns his state's economy has come down from 18 per cent to 8 per cent," he said, adding Modi had taken credit for the hard work done by people from his state.
The NCP chief also took potshots at the Gujarat chief minister for his lack of knowledge on the country's history.  Maharashtra Chief Minister Prithviraj Chavan, who also addressed the rally, draw a similarity between Modi and Nazi leader Hitler and said people with "fascist" ideology should be kept at bay.
He said that the process Modi follows is that of German Nazi dictator Adolf Hitler, who first got himself elected through democratic means and then ruled the country as dictatorship.
"There is only one photo and one name (in their party) and that is Modi," Chavan said.
He also accused Modi of insulting his senior party leaders including L K Advani and said "he even brought tears to the eyes of Jaswant Singh."