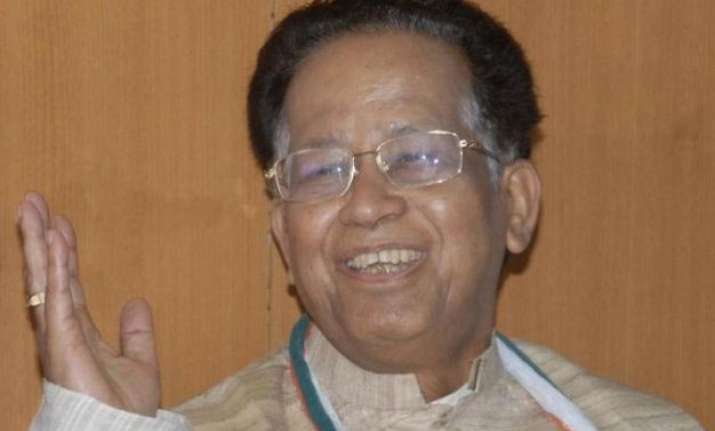 Guwahati: Accusing the Prime Minister of making a U-turn on his 'acche din' (good days) pre-poll promises to the people of Assam, Chief Minister Tarun Gogoi today asserted that Narendra Modi has drastically cut Central allocations to the state.
"Trusting Modi's pre-poll promises, the people of Assam supported him and gave votes in large numbers. But after one year, Modi made a U-turn on his promises," Gogoi told a press conference here.
"Acche din is for Modi as he is wearing Rs 10 lakh suit in happiness," Gogoi said sarcastically.
"The drastic cut in allocations of the central government will lead to a more than Rs 700 crore loss to continue the Centrally Sponsored Scheme (CSS) at the 2014-15 level state budgets. This will affect development of an under developed state like Assam," he said.
"The cut's impact include withdrawal of Special Category status, change in funding pattern from 90 per cent central grants to 10 per cent state funds. Earlier, the state got 3.68 per cent from the divisible pool, now it will be 3.31 per cent," said the Chief Minister who also holds the Finance portfolio.
"The 14th Finance Commission (FFC) recommended Rs 19,180.03 crore but the Union budget gave Rs 17,400.88 crore in 2015-16. This is less by Rs 1,779.15 crore," he said.
"The Rashtriya Krishi Vikas Yojana funding has been changed to 50:50. There is reduction of allocation of 12 programmes, including the Backward Regions Grant Fund (BRGF)", Gogoi said.
"The Centrally Sponsored Scheme (CSS) has been reduced from 142 to 66. The Integrated Child Development (ICDs) allocation reduced by 50 per cent. Thereby, the nutritional programme will suffer," the Chief Minister claimed.
Stating that there is a move to further cut flagship programmes from the existing 17, Gogoi said, "there is no intimation as yet of resource allocation for 2015-16. National E-governance scheme, modernisation of police, infrastructure development, setting up of model schools, etc."